First Fallout 3 DLC Dated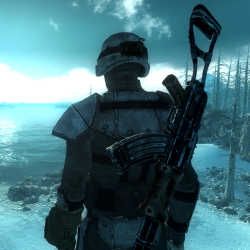 Operation: Anchorage, the first downloadable episode for Fallout 3, has just gotten a firm release date. The episode will be available for the Xbox 360 and PC on January 27th.
Anchorage has players entering a virtual reality simulation in which they must help liberate the city of Anchorage, Alaska from Chinese invaders. The episode contains new items and characters and will take an estimated 4-5 hours to complete. The price for the Xbox 360 and PC versions will cost 800 Microsoft Points ($10).
This is the first of three planned episodes for the post-apocalyptic role-playing game. The other two packs, The Pitt and Broken Steel are slated for February and March respectively. Still haven't picked up Fallout 3? Check out Blend Games' review for reasons why you should.
Staff Writer at CinemaBlend.