FlatOut Wii Receives Gladiator-Style Arena Mode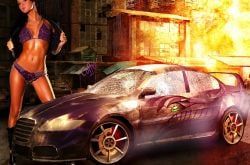 Are you tired of donut tracks? Or how about always trying to stay on the proper side of the yellow lines? Are you sick of making left turns every couple of seconds? Fed up with the tension of avoiding car crashes in your racing simulators? If you answered 'Yes' to at least one of those questions then you'll probably be pleased to know that Team6 is aiming to assuage disgruntled racing gamers. It was announced that FlatOut Wii will be on the receiving end of a gladiator-style arena mode for total destruction.
As stated in the press release…
Even if you enjoy wrecking other cars into tiny shreds and bits of twisted metal, you'll find that there is actually a way to repair your ride with a special repair bonus kit. The catch, however, is that the kit is located in an unusually dangerous segment of the battle arena.
It sounds like FlatOut is definitely poised to make some pretty big waves on the Wii, and gamers interested can learn more by visiting the Official Website.
Staff Writer at CinemaBlend.
Your Daily Blend of Entertainment News
Thank you for signing up to CinemaBlend. You will receive a verification email shortly.
There was a problem. Please refresh the page and try again.