Forza Motorsport 4 Alpinestars Car Pack Coming In April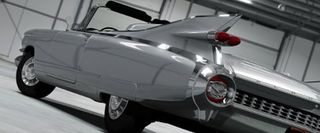 Next month Turn 10 Studios will add an additional ten cars to Forza Motorsport 4. The April Alpinestars Car Pack, featuring a mixture of old and new vehicles, will cost 560 MS Points ($7) to download.
Turn 10 will release the Alpinestars DLC on April 3rd through Xbox Live. Here's what's included in the car pack:
2011 Mercedes-Benz #35 Black Falcon SLS AMG GT3 – Featuring a replica livery of a race-winning Mercedes from 40 years prior, the Black Falcon SLS AMG GT3 is itself no stranger to excellent track performance. The SLS's distinctive gullwing doors are a welcome nod to classic Mercedes style, and the car's deep carbon fiber splitter and low roofline keep it firmly planted in the present. With the GT3, Mercedes is poised for more racing success ahead.
2011 Aston Martin #009 Aston Martin Racing AMR One – Engineered to take advantage of the FIA's emergency efficiency-focused regulations, the Aston Martin AMR One employs an in-line, 2-liter, 6-cylinder turbo that produces upwards of 540 hp.
2012 Jaguar XKR-S – The XKR-S is Jaguar's first full production car to be a member of the elite 300 kmh (186 mph) club. It's a strong road performer with a powerful engine and adaptive damping and stability control to keep the car stuck to the road. In all, the XKR-S is a potent mix of power, precision, and typical Jaguar beauty.
1995 BMW M5 – BMW's M5 line has always represented a full-bodied combination of power and luxury and nowhere is that more evident than in the 1995 M5. The quick-revving, 3.8 liter, 24-valve straight-6 engine delivers north of 300 hp and the 6-speed transmission was one of the few available in the mid-1990s. One drive is all you'll need to understand why so many BMW fans wish to lead the pack in this 4-door luxury sedan.
2011 Maserati Quattroporte Sport GT S – The Quattroporte Sport GT S is the automotive equivalent to an Italian opera. The Ferrari-built engine provides a concert of throaty rumblings whose volume and tone can be controlled via a valve-controlled exhaust. But this car can do more than produce an aria of exhaust notes; the Sport GT S is adept in the corners and no slouch on the straightaways too.
1985 Mazda RX-7 GSL-SE – Innovation and affordability combine with this mid-80s rotary masterpiece from Mazda. The GSL-SE introduced the legendary 13B engine, the largest, most powerful RX-7 engine ever developed at the time. Combine that with a light frame and perfect weight distribution and you've got a serious performer on your hands.
1972 Mercedes-Benz 300 SEL 6.3 – A beautifully appointed luxury saloon, the 300 SEL 6.3 also features a big single overhead cam, pushing the car from 0-60 in just 6.5 seconds and making it the fastest sedan in the world at the time.
1959 Cadillac Eldorado Biarritz Convertible -- Named after the sophisticated French resort town patronized by the likes of Napoleon and Queen Victoria, the Biarritz convertible defined elegance and grace in the late automotive world of the 1950s. It also had at least one very famous owner: "The King" Elvis Presley, whose "Pink Cadillac" has inspired numerous songs and movies.
1997 Volvo 850 R – While the terms "sports" and "wagon" rarely come together, they fit nicely when describing the 850 R. It's the perfect ride for hauling the kids, the dogs, and some groceries around, but it also sports a turbo-powered 5-cylinder engine that tops out north of 150 mph. You might not need all that power on your trip to the local hardware store but, in Forza 4, it will serve you well.
2012 Scion tC -- Functional, sporty, safe, and well-equipped, sum up the 2012 Scion tC. For 2012, the body received a much more chiseled look and, as with all Scion's, the list of dealer options is very long.
In addition to selling Forza 4 DLC packs individually, Turn 10 also offers a Season Pass. The $30 Season Pass gives the holder access to six DLC packs in total.
Image 1 of 17
Your Daily Blend of Entertainment News
Staff Writer at CinemaBlend.