Frame-Rate Is King On Xbox One, PS4, Says OlliOlli Dev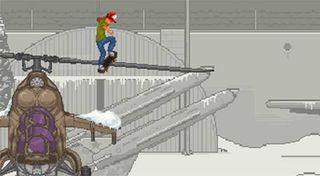 Gameplay is dictated by a couple of factors: how well the game plays mechanically and how well people can enjoy the experience technically. If the mechanics are pretty cool but get hampered by constant frame-drops or stuttering, such as Bayonetta on the PlayStation 3 or GTA IV on both the Xbox 360 and PS3, it can ruin the experience. Well, one developer explains why it's important to put gameplay and gameplay performance ahead of everything else.
GamingBolt managed to get in word with the studio director at Roll7 Ltd, Simon Bennett, who is in charge of bringing the popular portable game OlliOlli to the PlayStation 3, PlayStation 4, PC and Steam OS.
They asked Simon about a couple of things relating to the design performance of a game and the current debate over how the PlayStation 4 can maintain higher frame-rates with higher resolutions, such as with Tomb Raider: Definitive Edition, which runs at 60 frames per second on the PlayStation 4 and only 30 frames per second on the Xbox One. Simon stated that...
It's a little hard to say that people wouldn't notice the difference, but Simon is right that starting with a solid frame-rate is absolutely key given that above all else, even if you have a solid game the entire thing can go kaput if the frame-rate isn't stable. We've seen this many times before, such as the fallout that occurred when Call of Duty: Ghosts on PC had some of the worst stuttering available for a game, even when running on twin Titans in SLI.
According to GamingBolt, Simon's title OlliOlli will be running at 1080p and 60 frames per second on the PlayStation 4. Quite naturally, it would be easy to say that the resolution wouldn't matter much if the game already achieves that limit, as there's nothing to worry about with the game being on a platform that achieves the status quo.
Even still, the game isn't coming to the Xbox One so there's nothing to look forward to in regards to comparing the performance between the Xbox One and PS4 versions.
OlliOlli is a side-scrolling extreme-sports title that has received quite a bit of praise for its release on the PlayStation Vita. The game is a pixel-art game that is a throwback to old-school titles like Excitebike.
The game is known for being extremely difficult and has a mode that is called "Rad" that ramps up the difficult to unforeseen heights. The title is currently being planned for release on the PlayStation 3 and it's also being planned for release on the PlayStation 4.
The game will soon be available on PC for Windows, Linux and SteamOS users this month. You can look for Roll7's side-scrolling extreme sports title by paying a visit to the official website.
Staff Writer at CinemaBlend.
Your Daily Blend of Entertainment News
Thank you for signing up to CinemaBlend. You will receive a verification email shortly.
There was a problem. Please refresh the page and try again.