From Automotive To Electronics: Custom PS3 Paint Jobs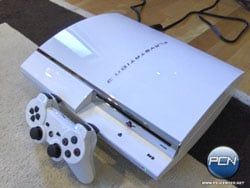 Let's be honest with ourselves: We were all pretty impressed by the great looking silver and white PlayStation 3 machines that Sony was showing off at E3, before the machine's official launch date. There was quite a low rumbling of disappointment when eager PS3 devotees found out that their machine would only be available in traditional black. However, one individual has turned a great disappointment into a great opportunity, giving us the world's first white-colored retail PS3. The end result was a runaway hit that stirred the gaming underground, and gave Michal Birecki, owner of www.ps3center.net the inspiration to take things a few steps further. Birecki's first white PS3 was sold for a staggering $1425.00 USD on Ebay, proving that there is a marketing niche for individuals who enjoy standing out from the crowd.
Birecki is a talented Montreal native with vast experience in automotive body work. Taking the skills learned from his father at a young age, he decided to sidestep conventional thinking, and stun the world with a truly high-quality PS3 mod. I managed to sit down and talk with Birecki regarding his inspiration for the project, and how he plans to make sure that everyone in the world has the opportunity to own a distinctly unique PlayStation 3 to call their very own!
Cinema Blend: First of all, thanks for taking the time out to talk about this really great project you're doing.
Michal: Not a problem my friend, it`s a pleasure.
Cinemablend: So when did you decide that you wanted to convert a black PS3 into a pearl white one? I must say it looked absolutely amazing.
Michal: At first I had the idea to buy a PS3 and resell it for a higher value on Ebay. However, after seeing over 10,000 PS3 machines on Ebay during Christmas, I knew I had no chance but to make mine unique. So, I was sitting at home one night, looking at some PS3 pictures on the Net ,and fell on the white and silver concept PS3s shown at last year's E3. I told myself "That's it, I`ll make the world's first white PS3!"
Cinema Blend: It's a great idea. I remember watching video footage from E3 which showed the white and silver PS3s, and I was hoping to pick one up when the system was officially released. I was disappointed to see they chose black, but now you're solving that problem. You've already sold the original white PS3, completed a silver PS3, and now you're working on a red PS3.
Michal: Exactly. I`m pretty sure Sony won't release PS3s in different colors for a while. I'll give it a year or two, but that's a big "maybe."
Cinemablend: How quickly did the white PS3 sell on Ebay?
Michal: I set up the auction on Christmas Eve, and it ended on New Years Eve at around 10:00 PM. It was a 7 day auction. The only mistake I made was setting up the auction so that it ended on New Year's Eve. I had over 390 watchers (potential bidders) and I received only 13 bids. It must`ve been bad timing. I doubt that people were sitting home on New Year's Eve waiting to bid on a white PS3. But the auction itself had 47,000 hits, and the article received over 74,000 hits, so the numbers speak for themselves.
Cinema Blend: I think it's safe to say that for so much work put into the project, the price was significantly higher than a regular PS3, which would force only serious buyers to consider bidding on the item, right?
Michal: Yes. I put over 12 hours of work into the first one. I took my time disassembling it, sanding it, painting it, etc. I wanted the job to be mint. I`m a very big perfectionist, and I need things to be done perfectly, or else I won't be satisfied. If you calculate the amount of work put into it, just in labor, I put over 250$ into it, plus the cost of the materials. Many people didn't like the idea, and said it can be done for $20.00, which is false. You cannot paint a PS3 that easily. It needs to be sanded down perfectly, clear coated, etc. The paint must be equally applied everywhere and a spraypaint can will not do the job. You need pro tools to do a job like that.
Cinema Blend: Given your experience with automotive bodywork and painting, how similar is painting the PS3 to painting a car, in terms of technique?
Michal: Very similar, actually. You need to sand down the original pieces to make them matt, so that the surface can be painted on. There's a certain technique to that. You also have to use primer derivatives to make sure the paint will stick, etc. Painting the PS3 is exactly the same as painting a car.
Cinemablend: Now I have a Sega Dreamcast from a few years ago. The console was nice and white when I bought it, but over the years it has become a faded, tobacco-like yellow. I've heard this is why some console manufacturers shy away from white. Is this inevitable, or is your white PS3 going to look beautiful for a long time?
Michal: You will never have that type of problem with my units. We apply the same type of base and clear coat that body shops use on cars. Nothing can damage the paint. If our cars can withstand our dreadful Canadian winters, then I'm sure a PS3 can survive sitting on the shelf for a couple of years. Many companies simply apply base coats to their products, leaving them unprotected against scratches. Our PS3's are fully protected with clear coats, which also give them a nice and glossy look.
Cinema Blend: I must admit, the glossy paint job looks absolutely amazing, and it must be such a great selling point. I presume all future colours will be as glossy?
Michal: For now yes. However, if a client requests a "matt" finish, we can always leave the units uncleared. However, we all know that these days, the "in" thing is glossy.
Cinema Blend: So does that mean that you're hinting on taking custom orders, or will you always sell these units "when one is done," like you've done with the white PS3?
Michal: I had planned to make 3 units before I can take custom orders. As promised, I was supposed to make a White, Silver and Red model. The red model should be rolling out next week. Once I have those 3 models completed, I have plans to set up a new section on www.ps3center.net, where people will be able to choose their console color, the color for the "Playstation 3" logo that goes across the top of the console (yes, a new idea of mine) and place their order right online. If you go to www.ps3center.net, you will see that on the right-hand side, there's a small section saying "Order Your Custom PS3." I will launch a new supporting section in the coming month.
Cinema Blend: So this has really gone from a brilliant concept with a lot of hard work, to something which could potentially end up being quite huge among the PS3 community.
Michal: Exactly. I`m planning on making www.ps3center.net the "Playstation 3 Customization website." It'll be a great addition to the community, and I believe that this concept will turn into something huge among the gaming populace. People want to be unique these days.
Cinema Blend: Sure. We see it among the automotive community, with so many bodykits, paintjobs, and graphics. Perhaps the gaming community is overdue for the same kind of trend?
Michal: For sure. The more unique, the better. I remember when I got my first car, a 1995 Mitsubishi Eclipse GS-T. It was fully modified, starting from a Body Kit all the way down to a custom candy blue paint job. Of course, car modification is widely available to pretty much anyone these days. I have plans to make Console modification a new thing among the gaming community.
Cinema Blend: Given that you run www.ps3center.net, is it too far-fetched to say that you might consider doing the same kind of work on other consoles, like the X-Box 360 for instance?
Michal: Seeing how well the Nintendo Wii is selling, I'm planning to do the same type of work on those. I still don't know if this service will be available on www.ps3center.net, but keep your eyes peeled for some custom Nintendo Wii's in the future, regardless of the location!
Cinema Blend: For our readers' benefit, please break down the method you'll use for custom orders. Will we have to purchase the PS3 and send it to you? Or will you take care of that with a downpayment of sorts?
Michal: We are still in the process of designing the custom order section. My initial plan was to make it fully automated. You go to the Custom PS3 area, hover over the color of choice and click on it, hover over the color of choice for the logo and select it, etc. Once that is done, you choose whether you would like a 60gb or 20gb model, the amount of controllers and place the order. I plan to link everything to PayPal for the entire order. I will not accept PS3s being sent to me to work on. Clients will be able to buy them directly from me only.
Cinema Blend: Are you worried about the popularity of your projects mushrooming to the point where it might be hard to keep up?
Michal: Yes, I was worried about that. However, I plan to put a cap on the amount of PS3's ordered at any given time. For example, if I achieve my cap of 15 orders, for instance, the website will automatically deny any upcoming orders until the finished models have been freed.
Cinema Blend: Finally, there's been a load of criticism towards the PS3 since it's release a few months ago. What is your take on all this, given your status as a PS3 gamer?
Michal: All you hear these days is "The PS3 is crap." I think Sony did a superb job on bringing innovation to a new type of console. Adding the Blu-Ray drive to the PS3 was a great idea, simply because Blu-Ray discs can hold much more data than regular DVD's, which means better and deeper games. They did have a rough time during the actual console launch because of the lack of units, but I believe they did a great job of supplying the retailers after the launch. You always hear people saying that the PS3's aren't selling, but every time I go to my local electronics store, they're all sold out of units. It's simply a matter of time before publishers start creating some awesome games for the PlayStation 3.
Cinema Blend: Thanks for taking the time to talk to us about your great work. I'm personally looking forward to seeing what you're going to pull off within the next year. Don't be surprised if I end up placing an order!
Michal: No problem. You can expect to see www.ps3center.net grow dramatically this year, and I expect it to be one of the top PS3-related websites on the Net. Expect to see our red PS3 next week, available for bidding on Ebay.
Your Daily Blend of Entertainment News