From Dust Now Playable Through Google Chrome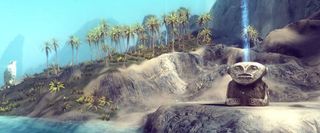 Google has added another high-profile game to the Google Chrome Web Store. Gamers can now play the full version of God simulator From Dust through their Chrome browser for $9.99.
In From Dust, players take on the role of a deity watching over a primitive tribe. They must control nature in order to sculpt the world and assist this tribe. For example, they can extinguish wildfires, divert water to create fertile soil, and even raise mountains.
The game features two modes. In the story mode, you're presented with 13 missions in various environments. The Challenge mode, meanwhile, offers up 30 maps with timed objectives to complete.
Many of the games available from the Chrome Web Store are from small developers. However, there are a few big names titles to be found. For example, Bastion has been playable through Google Chrome since last December.
If you'd rather try out From Dust before purchasing it, note that the Chrome Store also offers a trial version. Screenshots and a trailer are below, too. Impressively enough, the visuals don't look all that different from the console/PC editions.
Staff Writer at CinemaBlend.
Your Daily Blend of Entertainment News
Thank you for signing up to CinemaBlend. You will receive a verification email shortly.
There was a problem. Please refresh the page and try again.