Full Song List For Guitar Hero: Smash Hits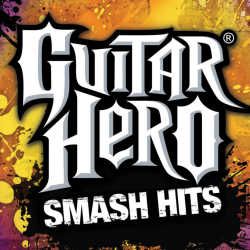 Today Activision revealed the 48 songs that will appear in the upcoming Guitar Hero: Smash Hits. Smash Hits' track list is composed entirely of songs from previous Guitar Hero games except you can now play them with a full band.
Here's the full list, courtesy of IGN. In their article, IGN complained that 4,000 blogs would steal the list and pawn it off as their own in about 12 seconds. Seems like a small price to pay for health insurance, fellas:
Guitar Hero
Blue Oyster Cult - "Godzilla"
Boston - "More Than A Feeling"
Deep Purple - "Smoke On The Water"
Franz Ferdinand - "Take Me Out"
Helmet - "Unsung (Live)"
Incubus - "Stellar"
Joan Jett & The Blackhearts - "I Love Rock N' Roll"
Ozzy Osbourne - "Bark At The Moon"
Pantera - "Cowboys From Hell (Live)"
Queen - "Killer Queen"
Queens Of The Stone Age - "No One Knows"
The Donnas - "Take It Off"
The Exies - "Hey You"
White Zombie - "Thunder Kiss '65"
Guitar Hero II
Alice In Chains - "Them Bones"
Avenged Sevenfold - "Beast And The Harlot"
Danzig - "Mother"
Foo Fighters - "Monkey Wrench"
Iron Maiden - "The Trooper"
Jane's Addiction - "Stop!"
Kansas - "Carry On Wayward Son"
Lamb Of God - "Laid To Rest"
Lynyrd Skynyrd - "Free Bird"
M?tley Cr?e- "Shout At The Devil"
Nirvana - "Heart-Shaped Box"
Rage Against The Machine - "Killing In The Name"
Reverend Horton Heat - "Psychobilly Freakout"
Rush - "YYZ"
Stone Temple Pilots - "Trippin' On A Hole In A Paper Heart"
The Police - "Message In A Bottle"
The Sword - "Freya"
Warrant - "Cherry Pie"
Wolfmother - "Woman"
Guitar Hero Encore: Rocks the 80s
Anthrax - "Caught In A Mosh"
Extreme - "Play With Me"
Judas Priest - "Electric Eye"
Poison - "Nothin' But A Good Time"
Ratt - "Round and Round"
Twisted Sister - "I Wanna Rock"
Guitar Hero III: Legends of Rock
AFI - "Miss Murder"
DragonForce - "Through The Fire And Flames"
Heart - "Barracuda"
Kiss - "Rock And Roll All Nite"
Living Colour - "Cult Of Personality"
Pat Benatar - "Hit Me With Your Best Shot"
Priestess - "Lay Down"
Slayer - "Raining Blood"
Guitar Hero: Aerosmith
Aerosmith - "Back In The Saddle
Smash Hits will arrive on the PS2, PS3, 360, and Wii on June 16th in North America.
Staff Writer at CinemaBlend.
Your Daily Blend of Entertainment News
Thank you for signing up to CinemaBlend. You will receive a verification email shortly.
There was a problem. Please refresh the page and try again.