GTA 5 Bug Turns Player Into Liquor Sign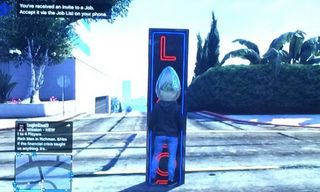 There are always going to be some crazy glitches that people find at one point or another. One of the cool things about glitches in today's generation of gaming is how easy it is to share that glitch with others... such as being turned into a liquor sign in Grand Theft Auto V.
Quite naturally this whole little shenanigan of being turned into a moving liquor sign took off and blew up over on Reddit. It's not just that it's an image of a guy who was glitched and turned into a sign while playing online in GTA V, it was the fact that he had a bit of a story to tell using images on Imgur.
The chronicle of his exploits as a liquor sign don't extend beyond moving around and eventually taking a ride with someone that I'll get to in a bit. But after someone saw this photo here...
Taco McNacho responded on Reddit saying...
There is a strong semblance in the image to Han Solo's carbonite imprisonment from Star Wars V: The Empire Strikes Back.
But that's not the best part of the story. While being turned into a liquor sign is pretty rad and looking like a super silver egg-man trapped in a sign-based carbonite is hilarious all on its own, having a buddy turned into the same thing makes it twice as good.
In the chronicles of his adventures as a moving, organic sign, the gamer mentions...
Lo and behold the other dude who got signified.
If this glitch happened back in 2014 it may have ended up on the list of the top glitches of the previous year.
I still think that Ubisoft's Assassin's Creed Unity still takes home the crown for the most hilarious and most game-breaking bugs of 2014. The combination of the missing faces and the atrocious frame-rate problems makes that one top of the crop and will be the discussion of piss-poor AAA releases for many months to come.
The glitch above for GTA V is good for a good laugh. I'm sure we'll see plenty more antics and hijinks from gamers when Rockstar's open world title releases on PC starting January 27th. The game is currently available right now for the Xbox One, Xbox 360, PS3 and PS4. I'm sure Rockstar will release the system requirements for the game on PC over the course of the next week as the timer counts down for the PC release.
You can learn more about Grand Theft Auto V by paying a visit to the game's official website.
Staff Writer at CinemaBlend.
Your Daily Blend of Entertainment News
Thank you for signing up to CinemaBlend. You will receive a verification email shortly.
There was a problem. Please refresh the page and try again.