GTA 5 Multiplayer Capture Mode Released On Xbox 360 And PS3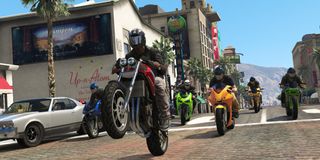 Grand Theft Auto V's multiplayer component GTA Online has a new game mode for players to dive into today. Capture mode asks players to steal from each other with impunity.
The new Capture jobs are spread across four categories. "Raid" is pretty much classic Capture-the-Flag, with two teams trying to steal packages from each other and bring them back to their base. The teams must collect and store as many packages as they can in their base in "Hold." In "GTA," they'll snatch up vehicles instead of packages. The fourth Capture match type, "Contend," has the teams fighting over a single package that spawns in the middle of the map.
Players will be able to find 20 Capture Jobs spread throughout Los Santos. Here are a few sample Jobs that Rockstar has detailed:
"Wargames" - Like any military operation, when things kick off at Fort Zancudo Air Base, they escalate pretty quickly. Teams stockpiling weapons to sell on the black market raid each other's bases at either end of the facility. If they get the goods back, they're banked. Nothing's off limits to be used here, including the fighter jets.
"Block Party" - Gang violence escalates in Chamberlain Hills, as block fights block at close quarters. Four factions with two packages each try to raid each other and protect their own stuff. If they get someone else's product back to their turf, they'll have to protect it.
"Salty Snatch" - Dog walkers and surfing talent agents look out - two import operations at either end of Chumash Beach are fighting over a shipment that's landed on the pier. Any product they can get to their spot in the sand is theirs to keep.
Capture mode is included with title update 1.08. The patch makes a number of changes to cash rewards. Losing in Last Team Standing or Team Deathmatch will now give you more money, as well finishing multiple-lap races. Racing solo or finishing only part of a checkpoint race will now pay out as well. Rockstar seems intent on making sure that players aren't progressing too slowly - a common gripe among players since mission rewards were nerfed.
Patch 1.08 also makes several bug fixes. The duplicate vehicle and Fastest Lap exploits should be gone. Likewise, you should expect a smoother experience with the Deathmatch and Race Creator that launched last week.
The full patch notes for 1.08 can be found at Rockstar's support site.
Image 1 of 3
Staff Writer at CinemaBlend.