GTA 5 Now Offers Double Cash And RP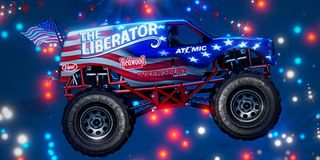 Grand Theft Auto 5 is celebrating the Fourth of July weekend with a special multiplayer event. During this event, players can progress twice as fast and get some exclusive loot.
All GTA Online Jobs played from today to July 6th will grant double Reputation Points. If you play a special Independence Day Online Event Playlist, you'll get twice as much GTA $ as usual in addition to the bonus RP. The Independence Day playlist includes Jobs like Grand Senora Desert (LTS), Guns and Gasoline (Parachuting), Mud, Sweat and Gears (Land Race) and Road Tripping (Team Deathmatch).
Rockstar Games will be bringing back the in-game items that debuted during their last Independence Day event. However, this time they're a lot cheaper:
Next week, Rockstar has a different celebration planned. The Ill-Gotten Gains Social Club Event Weekend will kick off on July 10th and run until the 12th. During these days, special crate drops will appear throughout the game world. Inside, players can find Independence Day gear like the Fireworks Launcher and Fireworks. You'll be able to buy the Sovereign and Liberator at a discount as well.
As the name implies, Ill-Gotten Gains Social Club Event Weekend is a commemoration of the Ill-Gotten Gains Part 2 Update. This update, launching on July 8th, adds a long list of items for GTA 5 players to purchase in multiplayer. Here's everything that was added:
Vehicles
Progen T20 (supercar)
Coil Brawler (off-road vehicle)
Invetero Coquette BlackFin (classic sports car)
Vapid Chino (muscle car)
Lampadati Toro (luxury speedboat)
Dinka Vindicator (motorcycle)
Weapons
Marksman Pistol (single-shot pistol)
Knuckledusters (brass knuckles)
Additionally, stores throughout Los Santos will be carrying new high-end clothing and accessories. On top of all that, the update will introduce the Lab radio station to all platforms. The Lab station is an eclectic mix of songs previously exclusive to the PC version of GTA 5.
The event sadly won't be adding any more heists. Rockstar has suggested that we'll have to wait a long time for any additional heists, assuming they even make them:
Staff Writer at CinemaBlend.
Your Daily Blend of Entertainment News
Thank you for signing up to CinemaBlend. You will receive a verification email shortly.
There was a problem. Please refresh the page and try again.