GTA 5 Online Festive Surprise Celebrates The Holidays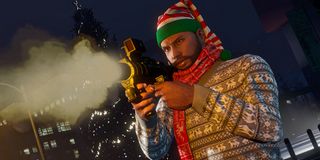 Rockstar Games has launched a special holiday event for GTA 5. The Festive Surprise brings players several new activities and gifts from now until January 5th.
San Andreas has been hit by an unexpected blizzard. The snow blanketing the region can be used for multiplayer snowball fights. Players can bundle up for this weather using new winter clothing like Christmas sweaters, scarves and holiday-themed pajamas.
Ammu-Nation is making a lot of criminals' Christmas wishes come true by adding a Homing Missile Launcher and Proximity Mines to their stock. These weapons can be bought in the Xbox One and PS4 single-player campaign after completing certain missions. In the PS3 and Xbox 360 editions of the game, they'll be added automatically to your inventory along with full clips of ammo.
The Fireworks Launcher from earlier this year is making a comeback as well. From Christmas Eve until January 5th, the launcher and its ammo can be purchased and used. Rockstar will give away a free one on Christmas Eve, Christmas Day, New Year's Eve and New Year's Day.
Four vehicles have been added to the game by Festive Surprise as well. The Massacro and Jester sports cars, Slam Van, and Hot Rod Christmas Ratloader can be added to your collection permanently. If you're playing GTA 5's single-player campaign, you can access them from the special vehicle list while in your garage in the PS3 or Xbox 360 version of the game. PS4 and Xbox One owners will have to buy them through San Andreas Super Autos.
Rockstar plans to give away some presents as well. They promise that a "few extra gifts" will land in your inventory on December 25th. Other presents will be falling from the sky throughout the event.
"Keep your eyes on the sky as Holiday Special Crate Drops will be dropping frequently now through January 5th, stuffed with goodies to collect for your inventory – including a few of the rare vintage GTA tees that you may have missed in some of our Social Club Event Weekends over the past year as well as some brand new ones never before available," Rockstar said in their Newswire announcement.
Players with a flair for photography can show off their skills in a new Snapmatic contest. Rockstar will be on the lookout for the best in-game photos tagged #FestiveSurprise. They'll give $1 million in GTA$ to creators of their five favorite photos.
Accompanying today's update is a series of other fixes and changes for the game. One notable one is that GTA Online players can now own up to three properties instead of two. The full list of changes for the Title Update can be found here.
Rockstar said yesterday that the Festive Surprise is a way to keep players entertained while they finish up GTA 5's online heists. The long-delayed feature is now expected in early 2015.
Staff Writer at CinemaBlend.
Your Daily Blend of Entertainment News
Thank you for signing up to CinemaBlend. You will receive a verification email shortly.
There was a problem. Please refresh the page and try again.