GTA 5 Online Lowriders Update Has Arrived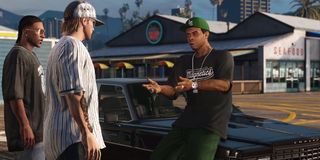 Today Rockstar launched the Lowriders Update for GTA 5's multiplayer on PS4, Xbox One, and PC. This free update adds vehicles along with a range of other content for your online crime sprees.
Once you've downloaded the Lowriders Update, you can head to Benny's Original Motor Works in Strawberry. Benny's will provide Lowrider modifications for the new Declasse Moonbeam van and Willard Faction along with four existing cars: Albany Buccaneer, Declasse Voodoo, Albany Primo and Vapid Chino. Here's what kind of modifications you'll be able to add:
You can also help Lamar in his quest to dominate the Lowrider scene in Los Santos. These eight new Contact Missions will test your stealth and combat skills alike. You might get some good use out of the new Machine Pistol and Machete available at Ammu-Nation.
The update introduces new player-versus-player modes as well. Keep the Pace is sort of like Speed: you have to stay above a minimum speed while driving through an obstacle course or your vehicle will blow up. Offense Defense tasks two teams with reaching an objective first. Each team is composed of Runner cars trying to reach the goal and more powerful Protector vehicles that attempt to run them off the road. In Relay, team members take turn driving laps in the race.
Players can use their hard-won cash to buy more properties, too. The update allows you to own up to four Apartments or Garages. Dynasty 8 is also offering a one-time 25% rebate for purchases of properties with 10-car garages until October 25th. You'll need to have a verified email address for Rockstar Social Club, be subscribed for the Rockstar Mailing List and belong to any Social Club Crew.
The movie-making tool Rockstar Editor now has a new Scene Creator feature. The Scene Creator allows you to make custom settings for your GTA 5 movies. You have access to over 200 props for these scenes, and can save up to four at a time for use later.
Here are some of the other changes you can expect in today's update:
New clothing, hair, tattoos and accessories: Dozens of new options to match your new Lowriders.
Personal Vehicle Remote: You can now use the Player Interaction Menu to remotely open your trunk, doors or hood to show off your new rides. You can also turn on the engine, lights and the radio all while standing outside admiring your vehicle.
Freemode Weapon pickups: 200 separate weapon pickups are now scattered across Los Santos and Blaine County. Keep an eye out for them as you roam through Freemode.
Changes to Performance Mod Unlocks: Performance mods are now more accessible and unlock by rank, as well as via Race wins.
Destroy Last Place: A new option has been added to Races, upping the stakes for those in the back of the pack. The host can set it to be effective each lap, every 15 seconds, every 30 seconds or every 60 seconds – and the player in last will be blown up at the corresponding interval.
Extra Weapons in the Creator: All previously released weapons that are not restricted by time-limited events will now be available for use in the Creator tool.
Quick Ammo Restock Option: Quickly refill your ammo directly from the Player Interaction Menu. Quickly add rounds to any weapon, or max out your ammo for that weapon type.
Pearlescent Crew Color: New paint options for Crew members in the Mod Shop.
New Player Actions: Three new player actions will be available via the Player Interaction Menu: Chicken, Chin Brush and No Way.
Updated PC Mouse Control Options: An option has been added to the Settings Menu to allow players to swap between Roll/Pitch and Yaw/Pitch mouse flying control types.
If you want even more detail than that, you can find the full patch notes for Update 1.3 at Rockstar Support.
Staff Writer at CinemaBlend.
Your Daily Blend of Entertainment News
Thank you for signing up to CinemaBlend. You will receive a verification email shortly.
There was a problem. Please refresh the page and try again.