GTA 5 Multiplayer Will Introduce Lowriders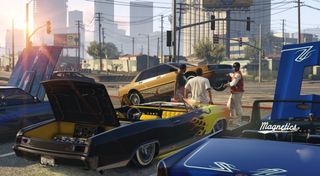 Rockstar is holding true to their promise of introducing new and exciting content to Grand Theft Auto V. The only thing is that not everyone will be able to get a handle on the content... specifically Xbox 360 and PlayStation 3 owners. Nevertheless, Xbox One, PS4 and PC gamers will be able to get their hands on some brand new, customizable lowriders.
Over on the Rockstar website they announced that the lowrider update will launch on October 20th and it will be available for free for Xbox One, PlayStation 4 and PC users.
The content opens up a ton of new options for the GTA Online play scape, including an all new customizable car shop called Benny's. This new shop allows players to outfit their cars with all new parts, including variable hydraulics that can be pumped up with extra power to gain maximum bounce height, as well as mini-wheels and custom shift levers. Additional customizable parts includes engine blocks, air filters, new paint options, new interiors and all new patterns for the cars.
It's not all about flash and panache in this newest GTA Online update. Rockstar is also introducing new missions for players to go on, either solo or with friends. These missions can be accessed through the seedy motorhead, Lamar.
Some of these new missions will include racing, fisticuffs and firefights. To deal with these new challenges Rockstar has opened up the cache of weaponry at the Ammu-Nation stores, enabling gamers to get a hold of the brand new machine pistol and the very sharp and equally deadly machete.
Rockstar had to reiterate a couple of times that the new update, the free update, will not be made available for Xbox 360 and PS3 users.
The news definitely did not go over well with Xbox 360 or PS3 owners since they really wanted to take some old jalopies and fix them up into something worthwhile and cool using the new lowrider custom parts.
However, Rockstar did mention previously that the Xbox 360 and PS3 would eventually be left behind when it came to updates for GTA Online. The main issue is that every new update adds new content that needs a place in memory. The PS3 and Xbox 360 only have 512MB of RAM... and when playing online people will use every vehicle, gun and piece of clothing available to them. So unlike the single-player mode where Rockstar can remove certain items from memory, they can't do that in GTA Online because what happens if you remove certain vehicles or weapons to make room for the new ones and then players get into a deathmatch where one of the players are using the vehicles and weapons that were cached out? Instant crash.
It's just a safer bet to keep the updates rolling out on the Xbox One and PS4 without having to worry about the limited resources of the seventh gen consoles and the micromanagement that comes along with it. It's difficult to sometimes convey that to users but that's just the way it works with technology.
The lowrider update goes live for the eighth-gen twins and PC on October 20th, next week.
Staff Writer at CinemaBlend.
Your Daily Blend of Entertainment News
Thank you for signing up to CinemaBlend. You will receive a verification email shortly.
There was a problem. Please refresh the page and try again.