GTA5's Awesome Rockstar Editor Is Coming To PS4 and Xbox One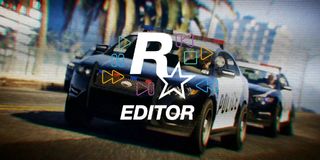 Grand Theft Auto V has never been so theatrical. GameSpot reports that the excellent Rockstar Editor is headed for both PlayStation 4 and Xbox One.
Beginning originally as a tool for PC users, Rockstar Editor is a powerful resource with which players can create their own film clips from GTAV.
Recently Rockstar Games ran a special contest with the editor that searched for the best film fans put together with the tool, and in the blog post announcing the winner, Rockstar went ahead and let slip that the next update for Grand Theft Auto V and GTA Online will includ Rockstar Editor for both PS4 and Xbox One.
First available for the PC edition back in April 2015, the Rockstar Editor features tools that allow players to create machinima films with special effects, including different filters, camera modes, audio effects, and more.
You can access the tools in the game campaign as well as GTA Online to get custom content, but you can also use Director Mode to sprinkle in characters, locations, props, and more from the game proper if you've got something more creative in mind.
The winner of the "Ill Gotten Gains" contest Rockstar Games had been running created their entry with the PC version of the editor, and took home a G910 Orion Spark Gaming Keyboard and a G510 Proteus Core Gaming Mouse engraved with the user's (pimpedupbadass) Social Club ID and Rockstar Editor logo. They also received a prize pack of GTAV gear as well as $100 for the Rockstar Warehouse.
Their film, "What Ill-Gotten Gains Is All About," is an interesting tale that introduces a woman who's gone to jail for grand theft auto in the Bolingbroke prison, and our hero pimpedupbadass rescues her to give her a taste of the good life -- with stolen funds, of course, all created in the world of GTAV.
There are some extremely awesome-looking videos made with the Editor. I'll probably be giving it a try myself since I don't really consider myself great with a video editor. This type of suite is useful in a landscape where it's clear gamers from all walks of life want in on the fun, but don't have the money or tools to make these types of videos. It'll be fun to see what kinds of videos are created when the update rolls out.
Your Daily Blend of Entertainment News
Thank you for signing up to CinemaBlend. You will receive a verification email shortly.
There was a problem. Please refresh the page and try again.