GTA 5 Online Patch Released For Xbox 360, PS3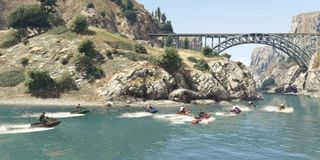 Rockstar Games has released a new patch for Grand Theft Auto V to fix the problems ailing its multiplayer, Grand Theft Auto Online. The patch went live for PS3 early Friday and was released for Xbox 360 overnight.
GTA Online allows up to 16-players to run amuck in Los Santos together and perform all manners of criminal activity. For example, they can perform heists together or challenge each other to races. Along the way, players earn money to spend on apartments, weapons and more. Players also have the option to spend real-world money to get this cash quicker.
That was what GTA Online was supposed to be in theory, anyway. The game simply wasn't working when it launched this week. Many players were unable to connect to the game. On the off-chance they logged onto the game servers, they'd get stuck in the tutorial. On the even more remote possibility that they got past the tutorial, their progress was abruptly wiped out from time to time.
To make matters worse, the title update to GTA 5 that unlocked GTA Online was causing issues with the single-player campaign. After trying to connect to GTAO and failing, some players found that the character swap wheel was missing in the single-player. Others found that their single-player saves were now corrupted.
The latest patch aims to fix all of these problems, though. Here's the full list of fixes from from Rockstar:
Fix to address the issue where players were stuck launching a session before the Mall or Nothingrace in the online tutorial.
Fix to address an issue where bank & cash were deleted incorrectly in some cases.
Fix to address incorrect amounts of cash being dropped when the player dies in Missions and Last Team Standing.
Fixes an issue where the Character Switch Wheel would disappear after a failed load.
Fixes an issue where attempting to enter GTA Online via the Character Switch Wheel caused a black screen.
Fixes an issue where temporary characters were overwriting main characters.
Fixes an issue where players were losing apartments and the money they spent on them.
Fixes an issue that caused Story Mode missions to be missed in some instances.
Removes the autosave that occurred when transitioning into GTA Online from within GTAV Story Mode to prevent the chance of Story Mode saves becoming corrupted.
Several tweaks to GTA Online including improving overall stability.
Rockstar has also added a huge amount of GTA Online features to the Rockstar Games Social Club website. You can now browse player stats, check out available in-game Jobs. You can also rate these Jobs or add them to your in-game queues. The pages for the player-run Crews have been updated as well. A new GTA Online Guide provides a steady stream of new tips and tutorials.
Staff Writer at CinemaBlend.
Your Daily Blend of Entertainment News
Thank you for signing up to CinemaBlend. You will receive a verification email shortly.
There was a problem. Please refresh the page and try again.