GTA 5 Screenshots Preview Weapons, Weapon Customization, Vehicles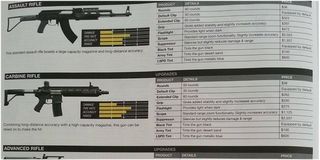 Following the leak of GTA V's map, some new image scans have made it online showcasing all the game's weapons and vehicles in Grand Theft Auto V. You can get a glimpse as to what sort of weapons you'll be using and what sort of vehicles you'll be driving in the game.
All for Game News managed to grab the image scans and toss them up for the public to see. Quite naturally, any video also showcasing similar content from GTA V has been shot down and barred from the internet at the legal behest of Rockstar Games and Take-Two Interactive... you've got to love our corporate-controlled society where people who want to look up spoilers can't because the big corps won't let you.
Anyway, the images are pretty detailed and you can check them out in the embed below.
It's pretty cool that you can customize the weapons to fit your playstyle and you can see just how much each upgrade and customization part costs. Adding scopes and suppressors will run you a couple of thousand dollars, where-as things like extended clips will cost you a few hundred bucks.
I'm thoroughly impressed with the amount of detail put into the weapons and the fact that they can be customized. I'm also shocked that the weapons aren't recycled from Max Payne 3, because Rockstar could have very well done just that and I certainly would not have complained at all. But if they wanted to do the extra work... all the more power to them?
In addition to showcasing the weapons, their upgrades and prices, you can also check out some of the vehicles in the album below. And have you noticed that the vehicles graphics fidelity seems to look almost on par to how they look in iCEnhancer? I'm guessing those shots were snapped from the next-gen or PC version.
While Rockstar may be trying to curb all forms of leaks and information spills from making its way across the interwebs (and good luck to them on trying to contain it all) some gamers who are eager to see what awaits them when the game launches next week can't keep their eyes and ears inhibited the way Rockstar wants. Good thing there are sites like this to satiate those who can't control their urges, eh?
Grand Theft Auto V is set for release next week for the Xbox 360 and the PlayStation 3. Most people suspect that a next-gen and PC version will arrive several months later, well after Rockstar cleans up lots of money from current-gen console owners who can't control their impulse to buy things.
Your Daily Blend of Entertainment News
Staff Writer at CinemaBlend.