GTA 5 Snapmatic Contest Announced By Rockstar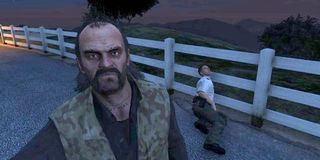 Grand Theft Auto V allows players to share photos they've taken with their characters' smartphone within the game world. Rockstar is trying to encourage more of these photos with a Snapmatic contest.
"Snapmatic photo-sharing from your in-game iFruit phone in GTAV and GTA Online makes it a cinch to snap and share that picturesque view from the peak of Mount Chiliad, the fifty car pile-up you engineered on the road to Fort Zancudo or that wild fistfight you stumbled into between Piswasser'ed derelicts at the local 24-7," Rockstar said today. "Of course, all it takes is the work of one photobomber to drastically alter the outcome of whatever you were trying to capture - this shark interrupting Franklin's peaceful moment at sea being the perfect example."
The first Snapmatic contest's theme is photo bombs. They want players to capture the most amazing photo bombs they can. For example, you could take a selfie while a convoy of police officers approach in the background. To enter, you have to upload your photos at the Rockstar Social Club. To be eligible, your photos have to have the hashtag #EpicPhotobomb.
"We'd also like to remind all hopefuls to make sure your contact email information is up to date in your Social Club account settings and also encourage you to link your Facebook and/or Twitter accounts to your Social Club profile so that we can easily contact you to send prizes should your picture be chosen."
The contest will run until the end of the day on November 4th. Rockstar will then choose five winning shots. These pictures will be published on the Rockstar Newswire. The winners will receive a prize pack with an iFruit phone case and decals, a GTA V t-shirt and a Chop stuffed toy.
To enter the contest, you must be a resident of the United States , Australia, Austria, Belgium, Czech Republic, Denmark, Finland, France, Germany, Hong Kong, Luxembourg, The Netherlands, New Zealand, Poland, Spain, Sweden, Switzerland, Ukraine, the United Kingdom or the Republic of Ireland. If you're living in the US, you can't enter if you're a resident of Arizona, Connecticut, Maryland, North Dakota or Vermont. You'll need to be at least 17 if you live in the United States or 18 if you live elsewhere in the globe. All the other fine print can be found here.
The Snapmatic contest will kick off a busy November for GTA V players. Rockstar also plans to release the Beach Bum DLC at the start of the month. Players will also receive free cash for multiplayer as compensation for the launch bugs.
Staff Writer at CinemaBlend.
Your Daily Blend of Entertainment News
Thank you for signing up to CinemaBlend. You will receive a verification email shortly.
There was a problem. Please refresh the page and try again.