GTA 5 Tricks And Treats With Halloween Deathmatch Event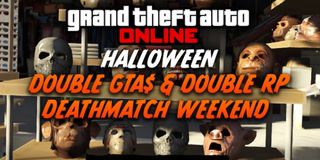 Those of you looking to party like a Rockstar this weekend might want to check out Grand Theft Auto 5 for all of your tricking and treating needs. Get ready for an online Halloween event, with double cash and double experience being offered for all deathmatch competitions throughout the weekend. There are some other ghoulish festivities, to boot.
Announced via the RockStar Newswire, the GTA Online Halloween Deathmatch Weekend runs from today, Oct. 31, to Nov. 2. They really love their holidays at Rockstar.
"…All Deathmatches will reward players with Double RP and Double GTA$ all weekend long – including Rockstar Created, Rockstar Verified and all player-created Deathmatch Jobs," reads the announcement. "The inhabitants of Los Santos will also be out causing mischief in Freemode and gathering treats along the way from Crate Drops including Firework Launchers, exclusive T-shirts and more."
To keep everyone in the Halloween spirit, the developer is also offering 50 percent discounts on in-game masks and hats, as well as half off on orange tints and smoke trails for use within the game.
If you're interested in collecting those vintage GTA shirts, then you'll want to log in and play every day this weekend. There will be three shirts available, one for each of the promotions days, including Flash FM, Bobo and Fever 105 FM. Those will be dropped randomly in crates on Friday, Saturday and Sunday, respectfully.
And, as mentioned above, you'll want to bring a costume to this Halloween party. Luckily, RockStar has provided details on how to make sure you look your best before stepping out onto the tough streets of GTA online.
"To get you into further frightful festivities, you'll also need a costume worthy of playing the part," continues the announcement. "Vespucci Beach Mask Shop offers an array of accessories and freaky faces to complete your outlandish outfit. This weekend, you'll be able to purchase all masks and hats at half-price and we've also discounted orange weapon tints, orange parachute smoke and orange tire smoke. Finally, in case anyone tries to steal your ride, grab a half-price ignition bomb for a special Halloween trick."
Tricks…treats…Yep, it seems like they've got all of their bases covered.
As a special note, anyone planning on taking part in this weekend's action is encouraged to use the in-game Snapmatic feature and tag their Halloween pic with #TrickOrTreat in the Social Club to be considered for inclusion in a future edition of Rockstar Newsire, as well as an in-game cash prize of a million bucks.
Finally, head over to the Rockstar Twitch channel Halloween night from 4 p.m. to 8 p.m. ET to enjoy a special Halloween-themed livestream event. That is, you know, assuming you're not to busy playing the game or hunting for delicious candies in the real world.
Your Daily Blend of Entertainment News
Staff Writer for CinemaBlend.