GTA City Of Paradise Is Fake, Fake, Fake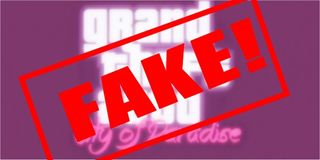 We were almost completely and entirely duped, folks. The whole GTA 5 or GTA 6 City of Paradise news is fake. Faker than Pamela Anderson's boobs, faker than CoCo's butt and faker than that compliment you received from that one night stand who said you were the "best they ever had". In other words, GTA: City of Paradise is fake, fake, fake.
Previously wrote about City of Paradise after we received a tip from a reader and did some scouring of some files on a social media marketing website. Many speculated that it was either GTA 6/VI or DLC for either GTA V or GTA Online. The information on the marketing website was very suspect, but the photos seemed like they were somewhat difficult to stage – it was a hard sell as fact or fiction and it could have meant anything.
However, it was brought to our attention from concerned internet goer who requested we only refer to him as "JUICE", that GTA: City of Paradise is, in fact, a hoax.
Just saying "hoax" doesn't incite or mean anything. Proof is required and proof shall be given.
JUICE pointed us to one of our own articles, a story we did about a company who specialized in manipulating and selling social media status. The parent registrar is called Enom, Inc and they're affiliated with the social media fixers known as Adixy. The latter has numerous subsidiaries/affiliates utilizing their services that specialize in capitalizing on selling social media manipulation via Facebook, Twitter, YouTube and more. Basically, they sell fake hype.
Our article lambasted their attempt to hint at the release date of the PC version of GTA V and noted how the countdown website was a fake. Be sure to read the full article to understand why it was faker than those UFO documentaries on the History channel.
I'll be the first to admit that I wasn't the brightest cock in the coop when news broke about GTA: City of Paradise and I focused more on trying to find out about SocialEvo and the faux-meeting they had with Rockstar Games instead looking at something a lot simpler: who was SocialEvo's (now known as Swenzy) parent company? Every corporate marketing entity these days that doesn't claim their fame to independent contract work is owned by a larger company and I completely missed this point of the plot.
JUICE noted that the same company that ran the fake countdown website for GTA V's PC release date, is the same company behind Swenzy. Using common sense and a quick check on the Whois domain tools website rendered results that fit the bill of JUICE's claim.
The same group operating out of Panama – and using Enom, Inc., as the domain registrar – is still the same force behind the Swenzy website, formerly known as SocialVevo, which is also associated with SocialEvo. The website, SocialEvo, is still up and available for viewing right here. However, if you look at the page source you won't find any indications or relations to past social media movements. It's like chasing a digital ghost.
However, if you run SocialEvo through the Whois domain tools, you'll find that the domain is registered to Tihomir Petrov, from Sofia in Bulgaria.
If you look closely at the creation and expiration dates of the websites, they're very close or similar to the creation and expiration dates of the fake GTA V PC release date countdown site. All of them were registered between early September and early October of this year and expire at the same times in 2014.
All in all, this information makes it blatantly obvious that City of Paradise is not on the development board of Rockstar Games and we are back to square one as far as knowing anything about any upcoming DLC planned for either GTA V or GTA Online. This also scratches off the list the possibility that this was some sort of secret meeting to discuss a possible GTA 6/VI. Sad but true.
As for this social media company... their plan to scrounge up customers doesn't really seem to be working out and they've actually done just the opposite by making themselves blatantly obvious as a company regularly practicing fraud. I'm curious, who would want to go to them for services after finding out they've been periodically running fake websites and fake promotion of content that doesn't belong to them?
Staff Writer at CinemaBlend.
Your Daily Blend of Entertainment News
Thank you for signing up to CinemaBlend. You will receive a verification email shortly.
There was a problem. Please refresh the page and try again.