GTA: Vice City Back On Steam, Nearly 10 Songs Removed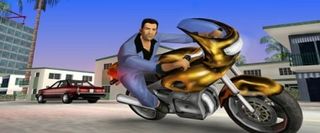 Good news and bad news: The good news is that with Rockstar Games re-releasing GTA: Vice City for mobile devices the game has also found its way back onto digital distributors for PC as well. The bad news is that the soundtrack has been severely gimped in the process.
Earlier we reported on GTA: Vice City no longer being available on digital distribution portals due to licensing issues. We identified that SME, Sony's music division, had Rockstar viced by the gonads on the licensing front due to a Michael Jackson song. Well, it wasn't just one Michael Jackson song and it wasn't just SME.
Rockstar Nexus laid out a more complete list of songs removed from the re-released version of GTA: Vice City, which is now more RIAA friendly. The songs removed from the game are as follows:
· Michael Jackson -"Billie Jean"
· Michael Jackson -"Wanna Be Startin' Somethin"
· Ozzy Osbourne -"Bark At The Moon"
· Kate Bush -"Wow"
· Herbie Hancock - "Rock It"
· Afrika Bambaataa -"Looking For The Perfect Beat"
· Lionel Richie - "Running with the night"
· A couple of songs from Radio Espantoso
Of course, for those of you who already bought and paid for the digital version of the game before the license for the songs expired will still have access to the complete soundtrack and all of the songs listed above, including Michael Jackson's "Wanna be Startin' Somethin", which Sony has gone as far as to have blocked from digital media websites that specifically host GTA: Vice City's iconic soundtrack.
Nevertheless, at least the game is back up on digital distribution portals. However, if you think that the RIAA being douche bags started with Hitman: Contracts and ends with GTA: Vice City think again. This will probably happen for any and every game available on digital distributors where the expiration for licensed music wears out and the publisher either has to renew the license or remove the music.
For games like Saints Row 2 or Saints Row: The Third, I'm curious how that's going to play out if THQ goes under? Especially considering that they're not in the most financially stable state at the moment. A decade from now if no one picks up Saints Row's assets and the license for the songs expire, will the games simply cease to exist or will there be some intermediary process to prevent the games from ending up in digital distribution limbo like Hitman: Contracts? I guess we'll find out in a few years.
Staff Writer at CinemaBlend.
Your Daily Blend of Entertainment News
Thank you for signing up to CinemaBlend. You will receive a verification email shortly.
There was a problem. Please refresh the page and try again.