Game Of Thrones Game Leads Into Season 5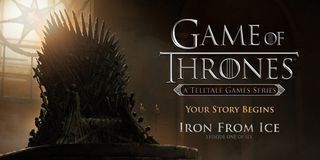 Telltale Games has kept their Game of Thrones project under tight wraps over the past year. On Tuesday, they finally shed some light on the adventure game based on the HBO show.
Game of Thrones: A Telltale Games Series stars House Forrester. They appeared in George R. R. Martin's novel A Dance with Dragons but haven't been seen in the TV show yet. The Forresters reside in the Wolfswood in northern Westeros. Their stronghold of Ironrath has stood at the edge of Westeros' largest ironwood forest for fifteen hundred years.
"Ironrath is a testament to the strength and endurance of Ironwood," Telltale explains. "The Forrester house words are 'Iron from Ice', which echoes their belief that - like the ironwood itself - the adverse conditions and unforgiving landscape of the North only makes them stronger."
Like their bannermen at House Glover, the Forresters are loyal allies of the Starks. This puts them right in the middle of the War of Five Kings, in which Robb Stark attempts to establish the North as an independent kingdom. The Forresters' control over ironwood, a valuable resource for making weapons and ships, is sure to make them a target in the conflict.
In the game, players will control five different characters spread throughout Westeros and neighboring continent Essos. Some are members of the Forresters family while others are servants. Each has a different role in deciding the fate of House Forrester.
As with Telltale Games' previous series Wolf Among Us and The Walking Dead, player's choices will have a big impact on the story.
"Playing as five characters not only reflects the epic scope of Game of Thrones, but is also something that the player needs to be mindful of. This is because the actions of one character can ripple out to affect the rest of House Forrester. Multiply the actions of one character by five, and you're truly playing the Game of Thrones…where you win, or you die."
The six-episode game will begin around the end of Season 3 of the show. It will conclude right before Season 5, scheduled to air on HBO sometime in 2015. It's possible that Telltale could wrap up their game around the time the show starts.
The first episode, "Iron From Ice," is expected to launch by the end of 2014. Telltale will release it on PC, Mac, PS4, Xbox One, PS3, Xbox 360 and iOS along with "additional platforms" to be announced at a later date.
Staff Writer at CinemaBlend.
Your Daily Blend of Entertainment News
Thank you for signing up to CinemaBlend. You will receive a verification email shortly.
There was a problem. Please refresh the page and try again.