GamesCom 2011: Street Fighter X Tekken New Trailer And Screenshots Surface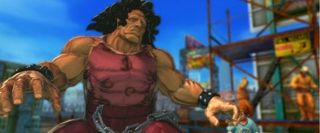 New screenshots and gameplay trailers were released for a number of games today thanks to GamesCom in Cologne, Germany. One of those games getting the media asset treatment is none other than Capcom's Street Fighter X Tekken.
You can check out some new footage of some of your favorite fighters getting all aggressive and engaging in some mad fisticuff skills below. The game itself contains a mix of fighters from both the overly-popular fighting game franchises. This means you can finally pit Fei Long against Marshall Law or Paul Phoenix against Ken Masters. Dream matches come true? I think so.
Now that you're done watching that, you can check out some brand new screenshots and some snazzy new artwork for the game below. For those of you who are just die-hard fans of either Street Fighter or Tekken you can use the following artwork as desktop backdrops…and yes, they really are that big.
You can learn more about the crossover fighting game of the decade over at the Official Website. Street Fighter X Tekken is set for release next year for the Xbox 360 and PS3.
Image 1 of 21
Image 2 of 21
Image 3 of 21
Image 4 of 21
Image 5 of 21
Image 6 of 21
Image 7 of 21
Image 8 of 21
Image 9 of 21
Image 10 of 21
Image 11 of 21
Image 12 of 21
Image 13 of 21
Image 14 of 21
Image 15 of 21
Image 16 of 21
Image 17 of 21
Image 18 of 21
Image 19 of 21
Image 20 of 21
Image 21 of 21
Staff Writer at CinemaBlend.
Your Daily Blend of Entertainment News
Thank you for signing up to CinemaBlend. You will receive a verification email shortly.
There was a problem. Please refresh the page and try again.