Is The Gaming World Ready To Say Goodbye To Call Of Duty?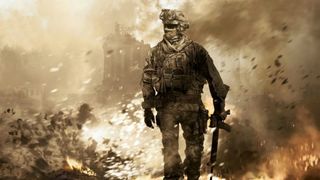 Just today, we reported that Call Of Duty: Infinite Warfare isn't doing so well in its pre-order numbers. While the numbers didn't come from Activision directly, it's still some kind of indication that the newest addition to the Call Of Duty franchise is lagging behind its predecessor, Call Of Duty: Black Ops III. But if it is in fact the end of the Call Of Duty series, are fans ready to let it go?
The simple answer is no. No to being ready to let go and no to the end of Call Of Duty. While many have proclaimed both on forums online and on social media that this game will be the end of Call Of Duty, it's just not true.
I feel like Call Of Duty is such a massive franchise that has been waging on for years that it'll take more than one shoddy game to destroy it. The first Call Of Duty game debuted in 2003, 13 years ago. And it's taken 13 years for Call Of Duty to finally have a hiccup? It's hard to think negatively about a franchise after going strong for 13 years. That's 13 years of developing content for the fans, carving out new stories and trying to show off something fresh each year. I mean, it's actually impressive that it took 13 years for Call Of Duty to finally get a little tired out. You had to know Call Of Duty would eventually end up in space. Call Of Duty: Ghosts should have been a foreshadowing of that. Where else do they have to go?
Plus, after Activision joined forces with Blizzard, Activision is so gigantic that they can afford to take a hit. But even if this weren't true, even if Activision decided that they couldn't afford the Call Of Duty franchise to bring them down any longer and that Infinite Warfare had just been too much, what would happen?
Fans would be irate. Yes, there are the fans who are currently pissed about Infinite Warfare and we all understand why. But what if Call Of Duty pulled out of the race entirely? Would that make fans feel better? Yes, probably for some. But most might feel upset that this is the way Call Of Duty went out, that there wouldn't be another Call Of Duty game. Waking up in a world without Call Of Duty would feel so foreign and wrong.
But chances are, that won't happen. Truth is, we probably don't want to think about saying goodbye to the Call Of Duty franchise. Not yet. If the remastered Call Of Duty game is any indication of what Activision is planning in the future, they won't let themselves drown. We won't be saying goodbye to Call Of Duty just yet. And who knows, maybe Infinite Warfare won't be that bad.
Your Daily Blend of Entertainment News
Thank you for signing up to CinemaBlend. You will receive a verification email shortly.
There was a problem. Please refresh the page and try again.