Call Of Duty Remakes Might Happen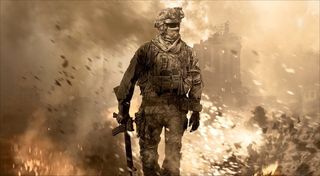 One of the big topics surfacing lately has been centered around remakes and remastered editions of Call of Duty games. No, not the old Call of Duty games on the OG Xbox and PlayStation 2. People are talking about remakes for Modern Warfare and the likes, and Activision is most definitely listening.
According to Game Informer, they talked with Activision's CEO Eric Hirschberg about remastering some of the more recent Call of Duty titles from the modern era, and Hirshberg stated...
That's no lie. Call of Duty games usually have multiple studios working on them at one time. There is usually anywhere between two and four studios working on a Call of Duty game.
Sometimes Activision will have one time focusing entirely on the single-player campaign while another team tackles the multiplayer. Other times there might be a separate studio working on a port for other systems, which is now a common occurrence when it comes to publishing cross-generational games.
Of course, Hirschberg doesn't rule out that we could see some of the more popular and recent Call of Duty games to make a return, stating...
Recently gamers have been clamoring for a remake of Call of Duty: Modern Warfare 2, one of the most popular and controversial games in the Call of Duty series. It saw the media fallout over the "No Russian" stage where players had to murder innocent civilians in order to progress through the level. Later on a patch was made available so players could skip through the level.
It seems kind of strange that gamers are begging Activision for a Modern Warfare 2 remake when the original game isn't even that old.
More than anything I could see Activision working on a possible Call of Duty 4: Modern Warfare remastered edition for the 10 year anniversary at some point. It would make sense and might not be a bad way to celebrate the series. It might also work as a way to give the series a break on new entries into the series and allow Activision and the rest of the studios to take a year off and figure out some new direction for the military FPS series.
For now, Activision and Treyarch are focused squarely on Call of Duty: Black Ops 3. I still can't for the life of me figure out if there are any ties between this new game and the other two titles but I guess we'll find out closer to release.
Your Daily Blend of Entertainment News
Staff Writer at CinemaBlend.