Garry's Mod Sells One Million Copies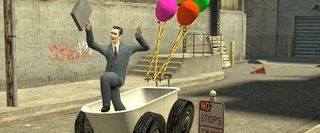 Indie sandbox physics game Garry's Mod is still selling well over half a decade after its release. Today creator Garry Newman announced that over one million copies have been sold.
"I know this isn't exactly Minecraft's 2.9 million – but this is a pretty big deal for me considering this all started off as a tiny tiny modification about 6 years ago," said Newman. "This is more than I could have ever expected or wished for!"
"Game" might not be the best way to describe Garry's Mod. There's no narrative or objective to it. It simply provides you with props from any Source engine game you have installed and lets you play with them in a Havok Physics-powered environment. You can combine props to create complex objects, such as cars. A little YouTube searching should give you an appreciation of the potential of the game - er, "game."
Newman and his company Facepunch Studios are continually updating Garry's Mod to incorporate content from new Source-powered games and fix bugs. The game's been updated 125 times since release. A new update is planned to celebrate the sales milestone.
"I did plan to release a big secret update I've been working on when we hit 1mil. But it's not ready – you guys beat me to it," said Newman.
Garry's Mod can be purchased for $9.99 through Steam. Though it's a standalone game, note that you'll have to own at least one other Source-based Steam game in order to use it. Team Fortress 2, Portal and Half-Life 2 are some of the games that fit that bill. Steam also offers a bundle of Garry's Mod and Counter-Strike: Source for $24.99.
Your Daily Blend of Entertainment News
Staff Writer at CinemaBlend.