Gears Of War 3 RAAM's Shadow DLC Arrives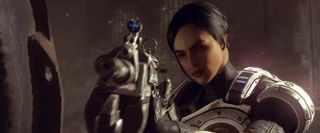 Gears of War 3 received another downloadable content pack this morning. "RAAM's Shadow" adds three hours of campaign play to the Xbox 360 shooter.
"Shadow" is a prequel to the Gears trilogy. Zeta squad must protect the citizens of Ilima City from a Locust Kryll Storm. Zeta Squad's members include Michael Barrick (from Gears comics), Lt. Minh Young Kim (GoW1) and Tai Kaliso (Gow2). A new female comrade, Alicia Valera, will add some gender balance.
The titular General RAAM, the final boss from GoW1, will make an appearance in the DLC as well. You'll actually get to step into his shoes and attack a human stronghold. It's the first time that players have been able to play as the Locust in a Gears campaign.
The campaign isn't the only bit of new content in "Shadow," though. The Zeta Squad members and RAAM will be usable in multiplayer along with a new Theron Elite Commando. Playing the DLC will earn you up to 250G worth of Achievements. You can also make your weapons more delicious with a new Chocolate Weapon Set.
You can purchase "Shadow" for 1200 MS Points. If you're planning to buy all the Gears 3 DLC, though, you might want to spring for a Season Pass. The Pass, priced at 2400 MS Points, gives you access to the first four content packs at a discount of 33%.
Staff Writer at CinemaBlend.
Your Daily Blend of Entertainment News
Thank you for signing up to CinemaBlend. You will receive a verification email shortly.
There was a problem. Please refresh the page and try again.