Ghost Recon: Final Mission Outed For Vita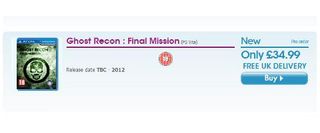 Ubisoft may have another Tom Clancy's Ghost Recon game up their sleeves for this year. A retailer in the UK mentions a PS Vita game called Ghost Recon: Final Mission.
The GAME listing, spotted by a NeoGAF user, has since been pulled down. A skeptic might write the game off as a mere clerical error but the fact that they had a specific title for the game (instead of something generic like Ghost Recon) suggests it's legit. Furthermore, the listing even had box art for Final Mission. It might not be final box art but still, someone actually put some thought into it.
The Ghost Recon series takes place in the near-future. Players take on the role of "Ghosts," a part of the U.S. Special Forces that undertakes highly classified missions across the globe. The gameplay focuses more on strategy and squad coordination than other shooter series.
It's been a busy year for Ghost Recon. Earlier this month, Ubisoft released Ghost Recon: Future Soldier for consoles and PC. Meanwhile, the free-to-play Ghost Recon Online is currently in beta on the PC. Both games move the series in a more futuristic direction, providing players with a chance to try out experimental equipment like cloaking devices. Presumably a PS Vita Ghost title would be based around a similar premise.
A new Ghost Recon game would be a welcome addition to the Vita's library. There are plenty of shooters in development, but I think there are only three actually available: Unit 13, Resistance: Burning Skies and Uncharted: Golden Abyss. Another big third-party addition to the genre would help Sony's efforts to woo core gamers toward their new device.
The listing at GAME stated that Final Mission would be available sometime this year. If that's true, then perhaps Ubisoft will announce it at E3.
Staff Writer at CinemaBlend.
Your Daily Blend of Entertainment News
Thank you for signing up to CinemaBlend. You will receive a verification email shortly.
There was a problem. Please refresh the page and try again.