The Godfather, St. Valentines Massacre Trailer For PS3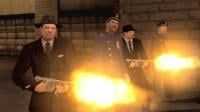 So the Valentines Day treat is a little late – but for everyone who was hoping to see someone get massacred on the most romantic day of the year, you've at least come to the right place. The only problem is that you're well over a day late. Still, you can get your kicks by watching the trailer of The Godfather: Don's Edition in all its glory on the PS3.
Due out in March for the PS3, the Don's Edition is EA's way of saying 'Hey look, we know you busted your bank account; skipped out on your mortgage; failed to pay your car note; and missed several months of buying groceries in order to purchase your PS3, so here's a special edition of the Godfather, just so you don't feel like you've been wallet-raped.' If you honestly think EA is re-releasing The Godfather for any other reason on the PS3, I'd like to hear to it...or rather, read it.
But for Playstation 3 owners who feel like the games are coming a little too slow with only very little play options, there's no worries when the time comes to get your Sixaxis dirty with The Godfather: Don's Edition. Brutalizing enemies (much like its Wii counter-part) will be done using the Sixaxis, and there's new areas to explore, new modes of transportation, and new people to kill. Basically, it's just more people to kill and a few new ways to get it done. So yeah, if you want even more people to kill, Don's Edition has you covered. So enjoy the bloody video below.
Your Daily Blend of Entertainment News
Staff Writer at CinemaBlend.