GoldenEye 007: Reloaded Double O Edition Announced For PS3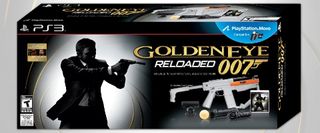 Activision and Sony both feel that GoldenEye 007: Reloaded is a good fit for PlayStation Move. They're teaming up to offer games a special Double 'O' edition of the game that includes the PlayStationMove motion controller, navigation controller, PlayStation Eye camera and Sharp Shooter peripheral.
"If any game has been tailor-made for the PlayStation Move and Sharp Shooter, it's GoldenEye 007: Reloaded," said Rob Dyer, senior vice president at Sony Computer Entertainment of America. "This is a reimagining of one of the most revered and iconic shooters of all time, and we wanted to allow our PlayStation fans to truly step into the shoes of everyone's favorite secret agent with the unparalleled control of Sony Computer Entertainment's motion-based entertainment."
The PS3 version of Reloaded will also receive an exclusive character. Hugo Drax, the villain from the 1979 film Moonraker, will be playable in split-screen and online multiplayer. He'll be wielding his crazy laser pistol. This character will be free to download.
GoldenEye 007: Reloaded is a remake of the N64 shooter with HD visuals running at 60 frames per second. The updated campaign is accompanied by Mi6 Ops Missions, standalone levels that offer Assault, Elimination, Defense and Stealth challenges. Four-player split-screen, a staple of the original GoldenEye, will return with new weapons, maps, characters and game modes. Reloaded will also support 16-player online battles.
Reloaded will be released nationwide on November 1st on the PS3 and Xbox 360.
Staff Writer at CinemaBlend.
Your Daily Blend of Entertainment News
Thank you for signing up to CinemaBlend. You will receive a verification email shortly.
There was a problem. Please refresh the page and try again.