H1Z1's Steam Reviews Are Hilarious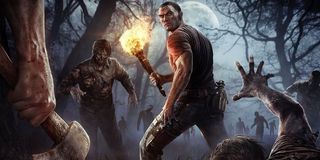 Multiplayer zombie game H1Z1's launch weekend has been filled with problems. On the bright side, is that players have used this frustration to write some fantastic reviews of the game on Steam.
Many of the Steam reviews focus on H1Z1's initial bugs. The game's in alpha so some aspects of the game are in rough shape. For example, many players trying to log in at launch were hit with a G99 error message that said servers may be down for maintenance:
One of the Steam reviews says that you should save $20 and get the full experience of the game by visiting H1Z1simulator.com. Here's what the page consists of:
Many H1Z1 players are also upset about the game's microtransactions. Though the game costs $20 to play, it also features numerous in-game purchases as well. Players can buy airdrops that may contain helpful items like military-grade equipment. While players who didn't pay for the airdrop can steal them if they're fast enough, you're left with a different problem: players not getting items they paid for. These airdrops wouldn't feel as important if there was enough loot found throughout the world to begin with:
This is unfortunately a common occurrence with Steam Early Access games. Players flock to them based on the premise and early trailers, but get frustrated due to the bugs or missing features. The game generally improves over time but in cases where the developer's too slow or takes the game in an undesirable direction, players can't get refunds. I can only remember one situation where Valve gave customers their money back and that was only because they decided the developer had misled consumers in their marketing.
To Sony Online Entertainment's credit, they're giving no-questions-asked refunds to many early buyers of the game. I think a lot of players, however, would rather that the game live up to their initial expectations. Maybe SOE will be able to polish up the game and in time deliver the zombie survival experience players are hoping for. Until, then, at least we have the Steam reviews.
Staff Writer at CinemaBlend.
Your Daily Blend of Entertainment News
Thank you for signing up to CinemaBlend. You will receive a verification email shortly.
There was a problem. Please refresh the page and try again.