Halo 2 Anniversary Edition In Development?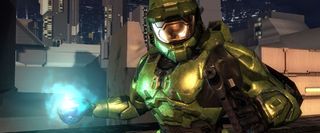 Gamers may get another HD remake of an older Halo title soon. A new rumor suggests that an Anniversary Edition of the 2004 Xbox Original game Halo 2 is now in development.
The rumor, published by OXM, states that Halo 2: Anniversary is already in development. It's being handled by 343 Industries, the Microsoft-owned company in charge of all things Halo. 343 co-developed Halo: Combat Evolved Anniversary with Saber Interactive and Certain Affinity.
The remake of the first Halo updated the visuals using the Halo: Reach engine. Online multiplayer, Achievements, and Kinect support were also included. Players were able to learn more about the series' lore through an in-game Library and hidden terminals throughout the campaign.
One would imagine that the Halo 2 Anniversary Edition will carry many of the same features as the previous remake. Perhaps 343 will "modernize" the game in a few other ways as well. For example, it might be powered by the Halo 4 engine.
The nice thing about these remakes is that they give Microsoft something Halo-related to release in between actual sequels. For example, the remake of Combat Evolved bridged the gap between Halo: Reach and Halo 4's release. Presumably the HD Halo 2 will arrive next fall to tide us over until the next-gen Halo.
Staff Writer at CinemaBlend.
Your Daily Blend of Entertainment News
Thank you for signing up to CinemaBlend. You will receive a verification email shortly.
There was a problem. Please refresh the page and try again.