Halo 5 Delayed To 2015, Says Master Chief Voice Actor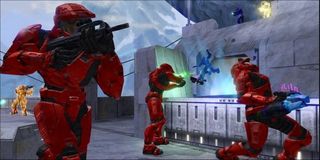 One of big topics of discussion surrounding the Xbox One's release slate for 2014 is whether or not a big Halo title will drop. If you haven't been caught up: originally Microsoft hinted at a big Halo game coming this fall, only to have a supposed insider leak information that stated that Halo 5 is delayed to 2015. Well, the insider gets a bit of corroboration from Master Chief himself, or rather, the voice of Master Chief, Steve Downes.
Okay, so there's parts of this story that may seem confusing, but the general gist is this: Steve Downes first confirmed and then denied that a Halo 2: Anniversary Edition is on the way. He does, however, stick to the story that Halo 5 has been pushed to 2015.
Originally, Downes talked to GameZone (opens in new tab) where he stated that...
Previously, Microsoft stated that the "next Halo journey" would begin in 2014. Shortly after that, the insider spilled the beans that Halo 5's 2014 release would be replaced with Halo 2: Anniversary Edition. The game has supposedly been in development since 2012 under 343 Industries.
A 2014 release for the Halo 2: AE does make sense given the usual two-year turnaround of AAA development. However, it does put into question how 343i could be working on the AE when they were busy with Halo 4? Technically, Saber Interactive and Certain Affinity could be helping out the way they did with the co-developed Halo: Combat Evolved Anniversary Edition.
Nevertheless, IGN reached out to Downes to get further clarification on his comments, and the story changed slightly, regarding Halo 2: AE, as Downes amended his previous statements with the following...
Oh well, that certainly clears everything up. He seems to be well informed about the 2015 slate of Halo 5 but only goes by NeoGaf rumors when it comes to Halo 2: Anniversary Edition. Makes perfect sense.
Then again, if what Downes said happens to be truth, then it means that everything else the leaker revealed also has some weight, including that disc-less Xbox One.
If I had to hazard a guess, I would imagine Microsoft stepped in to curtail any further talk about their unannounced projects. It doesn't seem like Downes said anything out of line, but no one from Microsoft has come forward to clarify if Halo 5 is indeed pushed to 2015. I guess we'll find out at E3. In the meantime, enjoy some classic goodness from the game that helped put the Xbox brand over the top:
Your Daily Blend of Entertainment News
Staff Writer at CinemaBlend.
Your Daily Blend of Entertainment News
Thank you for signing up to CinemaBlend. You will receive a verification email shortly.
There was a problem. Please refresh the page and try again.