Halo 5 Interview Reveals Agent Locke Is Hunting Master Chief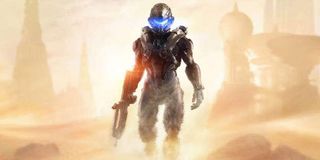 Halo 5 will continue the adventure of Master Chief. However, he won't be the only playable character in the game. In a new interview, voice actor Mike Colter revealed that players will be able to control his character Agent Locke.
"Yeah, I'm a playable character in Halo 5," Colter told OXM UK (via Reddit). "Once Halo: The Master Chief Collection is released, and then Halo 5 comes out shortly thereafter, you're basically going to be playing a game with me as the primary character. I'll have some cool weaponry, and some cool abilities, because by that time I'll be a Spartan IV."
Agent Locke will be introduced in the live-action series Halo: Nightfall, debuting with the Master Chief Collection. In that series, Locke (played by Colter again) is an ONI agent hunting terrorists on a colony. During this hunt, his team finds an "ancient, hellish artifact."
This latest interview suggests that Locke will then become a Spartan IV sometime between Nightfall and Halo 5. Spartan-IVs are the latest wave of supersoldiers being trained by the UNSC. Unlike previous generations of Spartans, the Spartan IVs are made up of adult volunteers rather than coerced children. I guess Locke proves himself worthy of this program during Nightfall.
We've always had some idea that Locke would play a big role in Halo 5. He's front and center in the game's box art, with Master Chief beneath him as a mirror image. It wasn't clear whether he was a good guy or bad guy, though.
This new interview doesn't clear up that mystery. You'd think that a Spartan would be helping Master Chief in Halo 5. However, Colter said in the interview that Locke is actually hunting him down for some unknown reason.
"What's not known is whether I'm a friend or foe. The relationship between Master Chief and Jameson Locke is going to be interesting. Because, what's the outcome? Is he dead or alive? Because that's usually what a manhunt comes down to, dead or alive, but you won't know what the purpose of finding Master Chief is [right away]. Or what will happen if we do find him, what condition he will be in, and where he's at mentally. But I'm sure that'll be a plot twist in Halo 5."
We're still not exactly sure what Master Chief's up to in Halo 5, either. The first trailer showed him wandering through a desert and encountering a giant Forerunner.
Halo 5 is expected to arrive in Fall 2015 exclusively on Xbox One. Anyone who purchases Halo: The Master Chief Collection will get an invite for Halo 5's multiplayer beta, scheduled to run from December 29th to January 18th.
Your Daily Blend of Entertainment News
Staff Writer at CinemaBlend.