E3 2014: Halo: The Master Chief Collection Grants Beta Access To Halo 5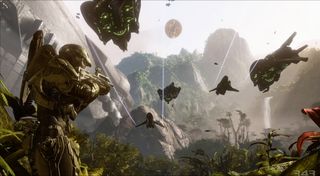 Well, Engadget certainly wasn't wrong about their information. The leak was very accurate, even right down the title of the game. It's confirmed that Halo: The Master Chief Collection will arrive exclusively for the Xbox One on November 11th.
The collection will contain everything that was discussed in the previous leak, which includes Halo: Combat Evolved, Halo 2, Halo 3 and Halo 4. The game was revealed with a pretty interesting CG trailer, which you can view below.
The games will offer two different forms of play: gamers can either dive in with the old-school classics that made these games famous in the first place on the original Xbox and the Xbox 360, or they can swap out the graphics with visuals designed to make use of the HD functionality offered by the Xbox One at 1080p and 60fps.
You can see a revamped and revised Halo 2 in action with the demo footage presented at E3, below. Check it out.
In addition to this, Halo: The Master Chief collection will not only provide you with all the nostalgic action that made the first two generations of the Xbox brand a recognized icon in video game culture, but they dropped a megaton with the news that the beta for Halo 5: Guardians will be included with the Halo
In fact, the beta news was so big all on its own that Microsoft dropped a completely separate trailer for the Halo 5: Guardians multiplayer beta with a teaser video below. Check it out.
So basically, some of you might be wondering where Halo: ODST is in this collection, but as noted by the title of the game itself: This is all about Master Chief. The reason for this is that Microsoft wants to focus solely on building up and reminding gamers about the journeys of the Chief and Cortana leading up to the release of Halo 5 in 2015.
Even more than that, Microsoft confirmed the one thing that had been on the minds of Halo fans since the news leaked: They will retain the original multiplayer of Halo 2 in all its decade-old glory. How awesome is that?
Definitely an exciting time for gamers. You can learn more about Halo 5: Guardians by checking out Gaming Blend's big guide of information right here, or you can learn more about all things E3 with our E3 2014 coverage right here.
Staff Writer at CinemaBlend.
Your Daily Blend of Entertainment News
Thank you for signing up to CinemaBlend. You will receive a verification email shortly.
There was a problem. Please refresh the page and try again.