Halo 5's Mystery Character Agent Locke Detailed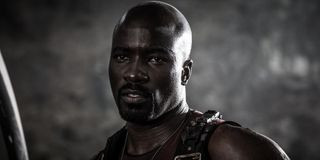 Agent Locke, a pivotal new character in Halo 5, became a little less mysterious today. A new report about live-action series Halo: Nightfall revealed some crucial details about him.
Locke is an agent of the Office of Naval Intelligence (ONI). ONI is a division of the UNSC Navy responsible for counter-espionage, propaganda and other secretive activities. Their agents have vast resources and the freedom to bend laws as needed to achieve their goals.
It's unclear how Locke will fit into Halo 5's plot. He's important enough to warrant an appearance on the game box but he's not the star. Long-time series hero Master Chief is still the focus of the story. However, in Nightfall, Locke gets a chance at the spotlight.
Variety's report adds that Agent Locke is hunting terrorists on a distant colony during Halo: Nightfall. This mission soon becomes more complicated than expected, though, when his team discovers an "ancient, hellish artifact."
Microsoft said in the past that Nightfall is intended to introduce Agent Locke to the Halo community. Presumably this series is set before the events of Halo 5. It remains to be seen whether there will be any ties between the game and the show other than Locke's presence in both.
In Nightfall, Agent Locke is played by Mike Colter. Most of his experience is in television, with credits ranging from The Ringer to The Good Wife. He also played a Navy SEAL member in Zero Dark Thirty.
"My favorite experience thus far would be shooting a scene in Belfast where I'm chasing an enemy who poses a serious threat to the people Agent Locke has sworn to protect through the city," Colter told Variety. "The scene is an action-packed sequence that involves some cool special effects and a lot of coordination with the stunt team to fulfill the director's vision. I can't wait to see how it turns out."
Colter will be part of a Comic-Con panel discussion about the project on Thursday. He'll be joined by 343 Industries executive producer Kiki Wolfkill and Halo franchise development director Frank O'Connor. They'll talk about the show and also show off the first footage.
Halo: Nightfall is being directed by Battlestar Galactica's Sergio Mimica-Gezzan. Ridley Scott, the director of Alien and Blade Runner among many other films, is a producer. They're planning to release the series through Xbox Live and Microsoft mobile devices this fall. Nightfall will also ship with Halo: The Master Chief Collection, a bundle of the first four Halo games remastered for Xbox One.
Last week, Microsoft announced that they were shutting down their TV programming arm Xbox Entertainment Studios. Nightfall was one of the shows spared by these cuts, along with the upcoming Spielberg Halo project. Around 200 employees were laid off as part of this "streamlining."
Halo 5, meanwhile, is still a ways away. Microsoft says the Xbox One exclusive will debut sometime in 2015.
Staff Writer at CinemaBlend.
Your Daily Blend of Entertainment News
Thank you for signing up to CinemaBlend. You will receive a verification email shortly.
There was a problem. Please refresh the page and try again.