Halo 6 Already In the Works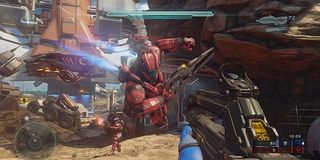 In case you thought the Halo universe would be winding down anytime soon, the team at 343 Industries is here to correct that assumption. The team has already begun work on Halo 6 and apparently has a plan for the series spanning the next couple of decades.
Similar to what Bungie was originally stating back when Destiny was first announced, 343 apparently has a 20-year plan forHalo beginning with their next project, Halo 6.
This news comes to us via Gamesrader, who got a peek at an upcoming Golden Joystick Halo 5 special. In the video, Frank O'Connor and Bonnie Ross discuss all things Halo, including a long, long future 343 has planned for Master Chief and company.
Development director Frank O'Connor starts off by saying that the team already has a pretty good idea of what will happen in Halo 6, then goes on to drop a bombshell announcement that the team is just now setting up the "fictional foundation" expected to carry the series through the next 20 years. That all begins with the next Halo, which is already in the works.
In this day and age when sequels are a more comfortable investment likely to keep your studio afloat, it's hard to blame 343 for this kind of excitement. People don't seem to be getting tired of Halo anytime soon, so the studio could actually be working on this series for some time to come. It's not super common to hear a team touting a game like Halo 6 before Halo 5 has even shipped, but that's usually because the industry has to remain so tight-lipped most of the time.
It's also nice to hear that this is a "plan" for Halo's future, not a definite. O'Connor said the team is cautious about making those "stepping stones too rigid," as artistic decisions, stories and the industry itself is constantly changing.
One thing seems at least definate, though: Halo 6 is coming. It doesn't sound like they're all that far along just yet but, after you plow through upcoming Halo 5: Guardians, you can rest easy in knowing that the story, for the time being, is expected to keep on rolling.
Your Daily Blend of Entertainment News
Staff Writer for CinemaBlend.
Your Daily Blend of Entertainment News
Thank you for signing up to CinemaBlend. You will receive a verification email shortly.
There was a problem. Please refresh the page and try again.