Halo: The Master Chief Collection Not Coming To PC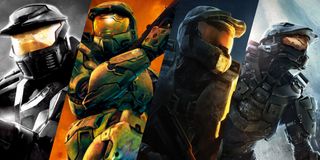 PC gamers won't be getting Halo: The Master Chief Collection. Microsoft confirmed today that the bundle of HD remakes will be an Xbox One exclusive.
Hope for a PC version was supplied by Amazon Spain, who listed the Master Chief Collection for that platform. Here's the screen-grab, via AttackoftheFanboy:
A PC release for Halo: The Master Chief Collection would be noteworthy for a few reasons. One, it's arguably one of Microsoft's biggest Xbox One releases this fall. Two, Halo 4 and Halo 3 have never been ported to PC before.
There were wider implications for the series as well. If Microsoft was willing to release Halo 3 and Halo 4 on PC, would they be willing to do the same for future titles as well? Would Halo 5 come to the PC in time as well?
Whatever excitement this Amazon listing created in PC gamers was quickly erased by Microsoft's Aaron Greenberg, though. He took to Twitter to stamp out the rumor.
Womp womp. Is this a shock, though? They told us there was no PC port back in June. They don't have any incentive to rethink that decision.
Like I said earlier, The Master Chief Collection is a major fall release for Xbox One. They're not going to water down its exclusivity with a PC launch, especially this early in the XB1's lifespan. They'd sell more copies of Master Chief Collection with a two-platform launch but, in their mind, the lower sales of an Xbox One-only release are worth it. Their highest objective is to get gamers to buy their new console. Master Chief Collection's ability to encourage those sales is compromised if players can just get the game on their PC.
Halo: The Master Chief Collection features remastered versions of the four numbered games in the series. It also supports local and online multiplayer. The compilation's extras include the digital series Halo: Nightfall and access to the Halo 5 multiplayer beta. The compilation will arrive on November 11th in North America and on November 14th in Europe.
This poll is no longer available.
Your Daily Blend of Entertainment News
Staff Writer at CinemaBlend.
Your Daily Blend of Entertainment News
Thank you for signing up to CinemaBlend. You will receive a verification email shortly.
There was a problem. Please refresh the page and try again.