Halo: The Master Chief Collection Sports Split-Screen Play, No PC Port For Now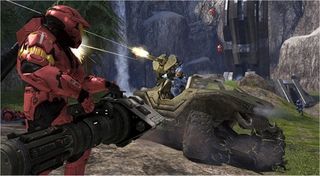 One of the big features that helped set the original Halo apart from the competition when it first launched on the Xbox back in 2001 was the ability to play the campaign mode with local split-screen support. One of the only other first-person shooters to sport local split-screen co-op for the campaign mode was Perfect Dark 64 on the Nintendo 64. Well, one of the founding features that helped shape the Halo brand will be making a return to the Xbox One this fall.
Previously, we knew that The Master Chief Collection was going to support a lot of the classic multiplayer features from the original games, but we weren't entirely clear on the details. Well, Gamespot spotted a community Q&A over on the official Halo website where 343 Industries answered a ton of questions regarding the upcoming title.
One of the most important questions related to the campaign co-op features and whether or not split-screen would still be on the table. Here's how it breaks down regarding the campaign modes for each game...
That's good to know.
Right now both Nintendo and Steam are winning on the front of local multiplayer support. It's a strange thing that you can easily find more split-screen and couch co-op titles on Steam than you can the home consoles.
Still, the complete Spartan Ops missions will be made available in the package as well, so gamers will get, literally, all of the praised and well-received features that made each iteration of Halo popular in the complete Master Chief Collection.
The team also revealed that The Master Chief Collection will be exclusive to the Xbox One... for now. That means that there is no PC port in the works at the moment.
Additionally, beta access for Halo 5 was briefly detailed and it was revealed that even digital copies of the upcoming Halo collection will enable users to partake in Halo 5: Guardians' multiplayer beta.
According to 343...
This is probably great news for anyone who may have been considering sticking with a digital purchase of the Xbox One fall exclusive.
With the recent footage showcasing the differences between the original Halo 2 on the original Xbox and Halo 2 for the Xbox One, it looks like the game will definitely appeal to new and old fans alike, especially anyone looking to experience the game at a resolution of 1920 x 1080p and a consistent frame-rate of 60 frames per second.
You can check out the full Q&A – and it's probably something die-hard fans will really enjoy – by heading on over to the official Halo Waypoint website.
Your Daily Blend of Entertainment News
Staff Writer at CinemaBlend.