Halo: Reach Available For Free On Xbox 360 Via Games For Gold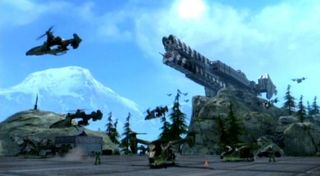 One of the best games that helped define the Xbox 360's era is now available for free. Anyone who has a penchant to get some backstory on the Halo universe before the upcoming Halo: The Master Chief Collection launches this fall, will likely want to learn how it all began with Halo: Reach.
Major Nelson had previously let loose the details back on August 28th via his blog, when he detailed that the Xbox One would be receiving Super Time Force and Crimson Dragon as the two free games of the month. For the Xbox 360 the games made available for free during the month of September are Monaco and Halo: Reach.
Gamers who own an Xbox 360 with an active Xbox Live subscription will be able to grab the titles for free via digital download right now. Monaco actually became available two weeks ago on September 1st, and today it's Halo: Reach's turn to take a step into the spotlight as a free, digital download.
Halo: Reach has been regarded by some as the best Halo ever made and one of Bungie's most refined releases. I don't know if I would put it so high on a pedestal, but it was one of the rare first-person shooter experiences that managed to combine a lot of what gamers loved about the previous titles while maintaining a tight, taut story pace. Basically it covered the fall of the planet Reach as the Covenant forces attempted to wipe out the Spartans. It's the prequel to Halo: Combat Evolved.
The gunplay was about the same as usual, and graphically Bungie decided to go all-in as best they could, utilizing motion capturing, high-end visual effects and a distinct enough look to help separate it from the competition. Bungie also continued to experiment with various modes and features to help extend and expand the replay values, including an improved Forge that allowed players to build and modify maps in very creative ways.
In fact, one of the most prolific maps created for the game is something you might have expected to see from Nintendo's Mario Kart series. Check out the Water Cyclone creation below.
I don't know if I would say that Reach trumped the replay factors of Combat Evolved or Halo 3, but it was definitely one of the more solid outings for the Xbox 360.
Getting the game for free (if you didn't already own it) seems like a fair way to keep 360 owners happy and make Xbox One owners kind of jealous that they still have to wait for all the really good games to arrive.
If you want to get in on the action all you need to do is head to the Xbox Live Marketplace (opens in new tab) and grab a free copy of Halo: Reach right now. Of course, you would still need a full Xbox Live subscription service before picking up a digital copy.
Staff Writer at CinemaBlend.
Your Daily Blend of Entertainment News
Thank you for signing up to CinemaBlend. You will receive a verification email shortly.
There was a problem. Please refresh the page and try again.