Hearts Of Iron 4 Coming In Early 2015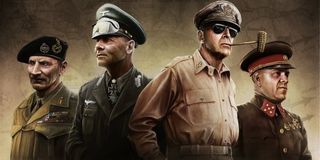 Today Paradox Interactive announced Hearts of Iron 4, the latest entry in their World War 2 grand strategy series. HOI4 will be released next year on
[[ http games www.cinemablend.com ]] PC and Linux.
The Hearts of Iron games allow players to lead nearly any country during World War 2. They must build up their nation's economy and armed forces in preparation for war. Players can join the Allies, the Axis, and the Communist International in the conflict or strike out on their own. When war begins, the player is responsible for directing military forces as well as spies.
"It is time to show your ability as the greatest military leader in the world. Will you relive or change history? Will you change the fate of the world?" the official website asks. It's a daunting task to be sure but that's why they call this a "grand strategy game."
Paradox made the announcement with a brief teaser trailer. The trailer doesn't tell us much; it's composed of stock footage from World War 2. The accompanying concept art depicts a few scenes from the conflict: D-Day, Erwin Rommel in the desert, and engineers constructing a V2 rocket. The trailer and artwork are all below for your inspection, along with the official box art.
Though Paradox didn't announce many details on HOI4 today, they dropped numerous hints about its features in a Reddit AMA last fall. Paradox's Johan Andersson said that the game would be more open-ended than HOI3. You won't be forced into a "rigid" progression path. He added that the A.I. will be more sophisticated and the game will be more accessible.
"It won't be dumbed down though.. but that god-damn weather system we made for hoi3 will never see the light of the day again," Andersson said.
On Hearts of Iron 4's Facebook page, Paradox said that the game will be out in "early 2015." They'll release additional information in the coming days. In the meantime, you can sign up at the game's website to be notified of any news.
[[ http games www.cinemablend.com ]]
Image 1 of 4