Here's How You Can Get Ratchet And Clank For A Limited Time In Dead Star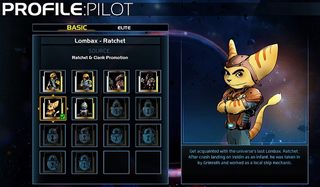 Here's a fun little crossover promotion that was announced this afternoon: You can now play as both Ratchet and Clank in the MOBA twin-stick shooter, Dead Star.
The announcement was made this afternoon over on the PlayStation Blog. According to Armature Studio Lead Designer Tom Ivey, the past few weeks have been extremely busy for the Dead Star team. You may recall that the game launched as a PlayStation Plus title, which means it had a healthy audience flying through the galaxy from day one onward.
Starting today, though, Ivey explained that "the stars of Ratchet & Clank are coming to kick some asteroid." The dynamic duo is jumping into Dead Star as part of a community event, giving players an opportunity to man their ship with a couple of PlayStation icons. It's also great timing for the Lombax and his mechanical cohort, as their new game, a reboot of the original Ratchet & Clank recently hit the PlayStation 4. They've also got a full-fledged animated picture hitting theaters this week, so they're certainly keeping themselves busy.
Ratchet is available starting today with Clank to follow in the near future. Their primary purpose is serving as pilot portraits for the game, which you'll be able to unlock by playing Dead Star during specific windows. According to the announcement, all you have to do is play in a match during the designated time and, boom, you've got yourself a virtual goody.
For the "Ratchet Event Weekend," just boot up Dead Star sometime this weekend from 4 a.m. BST this Friday, April 29, to Monday, May 2. The Clank Event Weekend will take place during the same hours from Friday, May 6, to Monday, May 9.
Along with the pilot portraits, you'll be able to enjoy special in-game events throughout the weekends.
If you still haven't picked up Dead Star yet, you'll want to move with a quickness. It will no longer be included as a PlayStation Plus game starting next Tuesday, May 3. To help get you rolling through the galaxy, today's PS Blog post includes all sorts of handy tips for beginning pilots. From how to best utilize outposts to communication with your teammates and taking advantage of cargo containers, there's a handful of nice hints to get you headed in the right direction.
As mentioned above, Dead Star is a twin-stick MOBA, which isn't as hard to explain as you'd think. Instead of running around as various heroes like in League of Legends or Smite, you instead customize a ship and fly around the galaxy, blasting your enemies out of sky while trying to take control of various points on the map.
Again, it's currently a Plus game for PS4, so there's no harm in giving it a test drive.
Staff Writer for CinemaBlend.
Your Daily Blend of Entertainment News
Thank you for signing up to CinemaBlend. You will receive a verification email shortly.
There was a problem. Please refresh the page and try again.