Hitman: Absolution Won't Feature The Music Of Jesper Kyd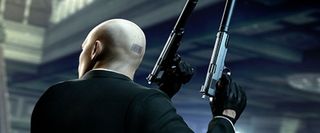 If you're a fan of Jesper Kyd and you're a fan of Hitman there's some bad news in store for you: The famed composer won't be lending his talents to the upcoming game from IO Interactive and Square Enix. Why? Well, basically the same reason David Bateson, Agent 47's voice, wasn't originally part of the game either, IO just didn't reach out with open arms.
In an interview with Kyd, we asked the film, TV and video game composer a number of questions, one in particular about a series he helped shape with iconic tunes, Hitman. When asked if he would be providing the score for the upcoming Hitman: Absolution, Jesper simply replied with..."No, I wasn't approached to score Absolution."
It's kind of hard to deny the impact the original theme song had once the game booted up back in 1999 and it was even harder to deny how that theme transitioned through and evolved with the series, even making Jesper's rendition of Ave Marie the goto promotional choice when it was time to market both the game and the movie.
Speaking of the movie, we asked Jesper about his absence from scoring the soundtrack to the Hitman movie, to which he replied...
Ouch.
It didn't feel like a Hitman movie at all,actually...it felt like trash. But that's besides the point.
It's very unfortunate that Kyd's work won't be attached to the latest Hitman game. Fans also mounted quite a bit of protest when they found out that David Bateson, the original voice for 47 throughout the entire series, wasn't going to be part of the game either. After some negotiating and some flames from fans, IO finally caved and brought Bateson back.
There have been jokes floating around that Absolution will probably replace Jesper's style of music with dubstep in an attempt to appease the kiddies.
You can check out the rest of our interview with Jesper right here, or you can visit the Official Website to learn more about Hitman: Absolution.
Your Daily Blend of Entertainment News
Staff Writer at CinemaBlend.