Horror Game 'Visage' Launches Kickstarter Campaign With New Trailer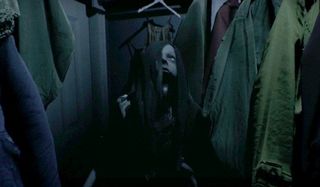 Visage was described in a previous Cinema Blend post as being inspired by the short-lived but highly impactful indie horror game, P.T. But now, Visage has finally launched their Kickstarter campaign to raise funds for the game and they've even gifted us with a brand new trailer showcasing 12 minutes of alpha gameplay. You can view it below.
The closet scene in the above gameplay trailer was a scene I thought was straight out of a movie like The Grudge, but then I started catching on that this house—if you want to call it that even—plays tricks on your mind. Because at one point during the gameplay trailer, I swear I had walked directly into the industrial Otherworld of Silent Hill. All that was missing was the siren.
The game is set inside a house where grisly and unspeakable things have happened, and as you can see from the gameplay trailer, well the house isn't quite as it seems. If there ever was going to be a spiritual successor to the Silent Hill series, this would be it. What made Silent Hill so great was its impeccable use of environmental horror, from sudden movements in the distance to the sound of a gigantic blade dragging along the floor. And Visage, even though in its early alpha stages, has managed to recapture some of that great environmental terror. Also, did anyone else notice that the strange figures in the paintings with the fingers pointing looked a lot like a representation of Pyramid Head? Maybe I'm just losing my mind.
One of the other elements that will make Visage a uniquely terrifying experience is the randomly-activated events throughout the game. This is so every time you play through Visage, different horror events might be triggered to provide a different (and maybe a scarier) experience. Visage is one of the first horror games to utilize this style of gameplay and really adds to the replay value. You can only imagine what horrors you're missing out on during your first playthrough, only to be enticed to play again. It's obvious that Visage has managed to reignite a fire in me that I thought I had lost years ago when I beat Silent Hill Downpour, and hopefully it can complete funding beyond its goal so that we horror fans can finally enjoy one of the most genuinely terrifying survival horror games to come around in recent years.
The developer, SadSquare Studio, just launched the Kickstarter Campaign about 2 days ago, and they've already made $2,002 of their $25,000 goal with 43 days left to go. You can head over to their Kickstarter campaign to back the project yourself. The Kickstarter gives a January 2017 delivery date on backer rewards, but there's no official date yet for the game's release.
Your Daily Blend of Entertainment News