Hideo Kojima's P.T. Has Inspired A Small Movement In Survival Horror Gameplay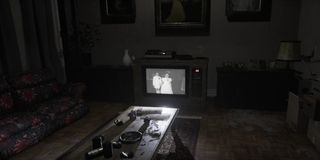 Last Fall, the world was teased with what we thought was going to be the next highly-anticipated installment for the Silent Hill series. Hideo Kojima, creator of the Metal Gear Solid games, was in partnership with horror director, Guillermo del Toro, to bring the new title and released Playable Teaser (P.T.) to announce it. Since the craze of P.T. and the heartbreaking cancellation of the Silent Hills project, it seems the gameplay evident in P.T. has left behind some sort of minimally-sized legacy on the survival horror genre in gaming.
Upcoming indie horror title, Visage, is one of the many games that have gone into development that seem to mimic or pull inspiration from P.T.'s horror-riddled gameplay. P.T. was a short, first-person horror game that involved the player wandering around a house and encountering horrifying moments instigated by exploration. In P.T.'s case, much of it was meant to mess with your mind. For example, the beginning of P.T. had you walking down the same hallway over and over, each time something being just a little more different. Visage is just a little different than P.T., but you can see the blatant inspiration in the gameplay trailer below.
In P.T., you are pretty much limited to certain portions of the house while in Visage, it looks like you have more rooms of the house to explore, like the kitchen and living room. So the layout is definitely more open.
Another game that seems to have used P.T. as inspiration is Layers Of Fear. The game focuses on an insane artist and his downward spiral into complete psychosis. And that all becomes evident in the game through wicked hallucinations and trippy misconceptions of the world around him. It has more of the psychological element that was present in P.T.
And these are just a couple of the games that are releasing soon that seem to have used P.T. as an inspiration in molding horror gameplay. It's amazing to see the impact that such a small and simple game has left on the video game industry. Originally used to announce and tease Silent Hills, it turned into something much deeper and more important to the survival horror genre. It's almost like P.T. gave us a glimpse into the next golden era of survival horror, to trek back to a time when horror games were intelligently horrifying and didn't rely on cheap jump-scares, but rather used the environment to set an uncomfortable vibe and instill fear. To build tension. To make you question going further.
P.T., as small and as simple as it was, may have been just what the gaming industry needed to rethink survival horror and to reintroduce something today's horror games were missing: genuine fear. Hopefully, this small movement sparked by the teaser will continue to affect the horror games releasing in 2016. Layers Of Fear will be releasing February 16 on the PS4 and Visage is currently greenlit on Steam with a Kickstarter coming soon.
Your Daily Blend of Entertainment News
Thank you for signing up to CinemaBlend. You will receive a verification email shortly.
There was a problem. Please refresh the page and try again.