How The Creator Of Minecraft Just One-Upped Beyonce And Jay-Z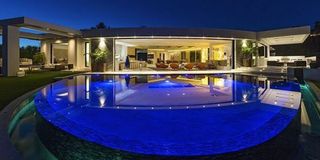 Minecraft creator Markus "Notch" Persson now owns the most expensive mansion in Beverly Hills. The designer paid a whopping $70 million for the 23,000 square-foot estate.
"Entertaining will be a snap with vodka and tequila bars, a candy room, an 18-seat tiered screening room, a state-of-the-art kitchen and an exquisite 18-foot onyx dining room table for 24 that includes place settings by Roberto Cavalli at a cost of $3,700 each," says the press release from real estate brokerage John Aaroe Group. "Three high-definition 90-inch television screens bring panoramic views of Los Angeles from the roof into the down stairs lounge – especially breathtaking at night, says De Los Reyes."
There are eight bedrooms and 15 bathrooms throughout the mansion. The bathrooms feature Toto Neorest toilets that cost $5,600 apiece.
The home also came furnished with some unusual art. These pieces include a replica of James Dean's motorcycle and a chromed machine gun. No word on whether Persson will actually keep that stuff.
Persson managed to beat out some other high-profile buyers for the mansion. A report from the first week December said that Jay-Z and Beyonce were the top bidders at the time. It sounds like Persson came in with a late bid and closed the deal in just six days.
He has more than enough money to afford the house. Microsoft purchased his development studio Mojang and Minecraft franchise for $2.5 billion earlier this year. As majority shareholder, Persson profited greatly from the transaction. His estimated net worth is around $1.5 billion.
As flashy as Persson's new home is, he's actually been retreating from the spotlight in recent years. He handed off lead development duties on Minecraft to a fellow Mojang employee in 2011. However, he found that he kept receiving hate from fans for controversial decisions. This led him to leave Mojang altogether this fall.
"I don't want to be a symbol, responsible for something huge that I don't understand, that I don't want to work on, that keeps coming back to me," Persson said in September. "I'm not an entrepreneur. I'm not a CEO. I'm a nerdy computer programmer who likes to have opinions on Twitter."
Persson departed the company as soon as the purchase went through. He doesn't seem to have any interest in creating another studio in the United States. Instead, he's looking forward to a more low-key future.
"[I will] go back to doing Ludum Dares and small web experiments. If I ever accidentally make something that seems to gain traction, I'll probably abandon it immediately."
On Thursday, he tweeted a picture of himself relaxing at his new mansion:
You can see more photos from his ridiculous new home in the gallery below.
Image 1 of 6
Image 2 of 6
Image 3 of 6
Image 4 of 6
Image 5 of 6
Image 6 of 6
Staff Writer at CinemaBlend.