How A Video Game App Helped Organize And "Level Up" My Life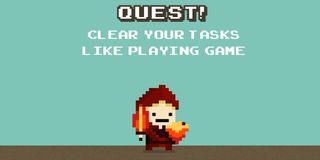 If you knew me, you'd know I'm a pretty disorganized person. But really, I'm not. Like many of those plagued by an incessant need to keep things messy and cluttered, I find a solace in my mess. Everything has its place. I know where something is because it's right where I left it. Despite being cluttered, I never seem to lose things. And yet, when I clean, I lose everything. That was until I discovered an app that more or less changed the way I go about organizing my life.
The app is titled Quest: Level Up Your Life and it's a simple app that helps you organize the things in your life—but in a much more appealing way. As a gamer, I find normal To-Do lists boring and a waste of time. I either write down the list and forget it at home when I leave to run errands, or I forget about it all together. But this app gives you a reason to want to complete a task, and somehow it works for me.
First, you add an item to the list, something like "do laundry." To do this, you swipe right on your iPhone or iPad. If you mistakenly added the quest, you can delete it by swiping left. Once you have completed the task or "quest", you can mark it as completed by tapping the "gem" icon on the right of your list item. Tapping the gem will not only level you up, but allow you to obtain a new item. If you want to view a log of all of your completed tasks, you can tap the "ground" in the app and it will show everything you've completed so far. Check out the video below for a more in-depth look at how the app works.
Quest User Guide from idle on Vimeo.
Since starting the app, I feel like I've been more on top of things in organizing my life. All of my meetings and important items remind me long before they are due and now I feel like I want to finish a task just so I can level up more. It goes back to my obsession with leveling and building my character in games like Gauntlet, Diablo and Torchlight. I need that next level or I need to find that special item. Now when I have to vacuum the apartment, I don't groan and put it off until forever. It's almost like this app has given me a reason to want to find things to do so I can check them off, which in turn makes me more active and organized.
Of course, the Quest app won't be for everyone, for not everyone is fueled by an incessant need to complete a quest and level up in order to get the important things in life accomplished. But you have to admit, it's a very unique approach to motivating those who hate following a To-Do list or simply need more organization in their life.
You can download the app on the iTunes Store for iOS, but the app is not available for Android.
Your Daily Blend of Entertainment News