Humble Indie Bundle 9 Adds Bastion, LIMBO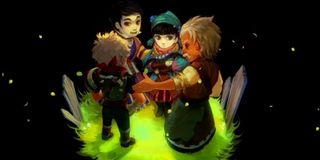 Humble Indie Bundle 9 (opens in new tab) just grew by four games. Gamers who spend more than the average customer will be able to unlock Bastion and Limbo among other titles.
Bastion is an isometric action RPG. The player character is a nameless kid who wakes up after an apocalypse. Armed with a small arsenal including a machete and sniper rifle, the Kid must travel across this ruined world and put it back together. The campaign is supplemented by weapon challenges and wave-based survival challenges, both of which unlock bonus items.
Limbo also begins with a nameless child waking up from a mysterious slumber. This game is a very different experience than Bastion, though. Players will traverse a shadowy wasteland filled with monsters and other hazards and solve physics-based puzzles.
The third new game in the bundle is A Virus Named TOM. In this puzzle game, the player is a virus trying to spread itself. They have to connect circuits while avoiding drones. The game also features co-op and a battle mode.
Rocketbirds: Hardboiled Chicken is the other new addition. Players take on the role of a trigger-happy chicken rebelling against penguin tyranny. Rocketbirds ships with a co-op campaign as well with new puzzles that encourage teamwork.
All of these four games are playable on PC, Mac and Linux. This bundle marks the first time that Rocketbirds and TOM have been available on Mac and Linux.
Customers who pay more than average for Humble Indie Bundle 9 will unlock the puzzle-platformer Fez and roguelike strategy FTL: Faster Than Light. Regardless of what you pay, you'll get Mark of the Ninja, Brutal Legend, Trine 2: The Complete Story and the beta version of Eets Munchie. The bundle includes digital soundtracks for most of the games as well.
Humble Indie Bundle 9 will be on sale for another week. To date, it's raised nearly $2.5 million dollars from 529,773. The average amount donated is $4.64.
If you're looking for another deal, note that the retro shooter bundle (opens in new tab) is still on sale for the next 21 hours or so.
Your Daily Blend of Entertainment News
Staff Writer at CinemaBlend.