KUNOS Simulazioni Unveiling New Proprietary Tech And Game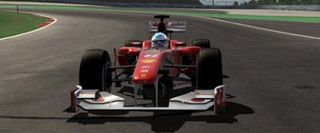 Software developer KUNOS Simulazioni started off as a one-man-show indie studio that eventually developed into a studio with many professionals working on racing simulators and training programs. KUNOS has announced today that they're working on the next big thing for PC and that the game will run on their brand new proprietary technology, with the official announcement coming next Friday on December 23rd.
KUNOS only works on professional grade PC racing titles with heavy reliance on simulation effects and mechanics. The only thing the press release verifies is that KUNOS is working on a new racing title for PC that will be released in 2012 and that it will run on new proprietary technology. Exactly what kind of tech is it? Well, that's anyone's guess...it could be software that works with the new Kinect middleware for PC, it could be graphics technology, it could be physics technology for vehicles...it could be anything.
I'm betting it's just a generalized new game engine for whatever racing title they're working on that enhances most of the basics: graphics, handling and special effects. Anyway, we'll all know for sure once December 23rd rolls around and KUNOS makes the official announcement.
In the meantime you can check out KUNOS very, very impressive portfolio over at the Official Website.
Staff Writer at CinemaBlend.
Your Daily Blend of Entertainment News
Thank you for signing up to CinemaBlend. You will receive a verification email shortly.
There was a problem. Please refresh the page and try again.