Killzone: Shadowfall Patch Adds Team Voice Chat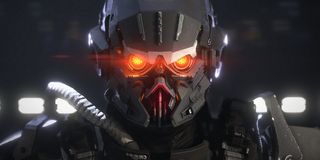 Guerrilla Games managed to sneak in one last patch for PS4 exclusive Killzone: Shadowfall before the holiday break. Patch 1.07 introduces team-based voice chat to the shooter while also making a number of other revisions.
If you're not a fan of voice chat, you can mute all the players through the options menu. If you've got a screaming asshole in your match, you can mute them specifically as well. Voice chat can be disabled for all players in custom Warzones.
There are some major bug fixes in 1.07, too. Guerrilla says that they've changed several multiplayer exploits and crashes. In the campaign, the gravity well should now open consistently in "The Dead" mission. The bug that wiped out player save data when they reboot during patches has been fixed as well.
Most of the other gameplay changes are small. Party member icons on the radar are now blue, while objective icons are larger. Player cards now have an invite-to-play button. If you want to respawn quickly, you can now select "suicide" from the options menu. These revisions aren't earth-shaking but should make multiplayer go a bit smoother.
Here are the full list of changes in 1.07:
New implemented features/improvements
Added team-based in-game voice chat.
Added the ability to mute specific players to the in-game scoreboard.
Added the ability to mute all players to the Audio options menu.
Added support for color blindness to the Display options menu.
Added the ability to allow/disallow voice chat in Custom Warzones.
Added support for multiplayer voice packs
Updated the multiplayer personalization menus with voice pack and skin support.
Added links to DLC content on PlayStation Store in areas where DLC and personalization packs can be selected or used.
Added an explanation of Warzones to the main menu (visible only to first-time multiplayer players).
Added the ability for players to delete their moderated Warzones.
Updated the Remote Play button assignment.
Increased the running speed while using the Cloak ability.
Added an Invite-to-Party button to player cards.
Removed the checkpoint text when not saving to disc, to make it less confusing for players.
Increased the brightness on The Handler, section Last Stand to make spotting enemies less difficult.
Increased the size of the objective icon and changed the image to make it more visible to players.
Added a new Warzone customization option: Disable weapon drops.
Added a suicide option to the multiplayer options menu.
Changed the color of party members on the radar to blue.
Removed the player's rank/challenges completed from the in-game scoreboard.
Added base camp turret icons to the radar.
Bugs fixed
Fixed several exploits in multiplayer.
Fixed several crashes.
Fixed a bug where the names of cloaked teammates did not appear above their head.
Fixed a bug where the gravity well did not open in some occasions in the campaign level The Dead, section Tyran Lives.
Fixed an issue where if all users leave a party mid-game, the teams are not rebalanced when the map rolls over.
Fixed a bug where the player's save data is corrupted if they reboot the title while a patch is being downloaded.
Guerrilla's been releasing new patches at a steady clip since Shadow Fall launch a month ago. Earlier in December they released left-hand support and trimmed down the campaign. Their future plans for the game include new gameplay content and multiplayer clan support. You can find out what we think of the game thus far by checking out our review.
Staff Writer at CinemaBlend.
Your Daily Blend of Entertainment News
Thank you for signing up to CinemaBlend. You will receive a verification email shortly.
There was a problem. Please refresh the page and try again.