Kingdoms Of Amalur: Reckoning Launches With Day One DLC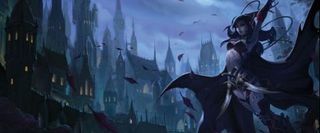 Today Big Huge Games and 38 Studios released single-player RPG Kingdoms of Amalur: Reckoning. The open-world game is available throughout North America for the PS3, Xbox 360 and PC.
Players start off the game as a corpse. They're resurrected during a great war and learn that they might be the key to ending the conflict. Players embark on a quest to save Amalur, all the while molding their character's abilities to suit their playstyle.
Like many other role-playing games, Reckoning offers players a vast world to explore. However, it varies from other RPG's in its approach to combat. Battles in this game are closer to God of War or similar action titles.
The development of the game was a very star-studded affair. Fantasy author R.A. Salvatore helped craft the story while Spawn creator Todd McFarlane contributed to the art direction. Ken Rolston, lead designer for The Elder Scrolls III: Morrowind and Elder Scrolls IV: Oblivion, oversaw the development. Also, randomly enough, 38 Studios was founded by former Red Sox pitcher Curt Schilling.
New copies of the Xbox 360 and PS3 versions of the game will come with a download voucher for "House of Valor". "House of Valor" is a DLC pack that gives players seven more quests. Players will test their mettle in the Valor Arena and earn new rewards in the process. If you buy a used copy that's missing its voucher, you'll have to pay 800 MS Points ($10) for this content.
38 Studios has high hopes for Reckoning. They're planning to create an MMO, dubbed Project Copernicus, set in the same world as this game. Strong sales and reviews for Reckoning could make it a lot easier for 38 Studios to secure funding for Copernicus.
Your Daily Blend of Entertainment News
Staff Writer at CinemaBlend.
Your Daily Blend of Entertainment News
Thank you for signing up to CinemaBlend. You will receive a verification email shortly.
There was a problem. Please refresh the page and try again.